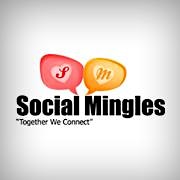 Social Mingles
Ladies & Gents,
Do you find it hard to make a connection with someone nowadays in a world where people are so addicted to Likes, Followers and Selfies? 
OR
What about when you meet someone online and the next thing you know it, that person just went cold/just disappear (with no explanation) for no logical reason and you always wonder to yourself what have you done to deserve this?
If you answer "yes", glad we are on the same page.
The truth is, it's not your fault. You are looking at the wrong places. Now it is time to do something different from the rest of the world.
Join us at Social Mingles, a new great way to meet like-minded singles who have substance like you and connect on a deeper level with no ego. 
With Social Mingles you will always feel comfortable, there will be a bit of assistance to guide the interaction along including fun singles games to play that also builds connection and personal character that the opposite sex finds attractive. 
Make your way to our singles events today!