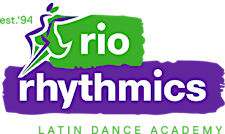 Rio Rhythmics Latin Dance Academy
Dance your way to a whole new life with authentic Latin dance.
Put the spring back into your step and inject passion into your life with social Latin Dance. Classes run 7 days a week and parties are every weekend – you'll transform not only your health, but your social network too!
The way we teach is a little bit different. At Rio Rhythmics you'll learn step-by-step all the technical elements of how to Salsa, Samba and much more – but you'll also gain cultural insights to the styles so you can dance with authentic Latin passion! Right from the beginning, you'll learn all the most popular Latin Dance styles as we believe it's the fastest and most enjoyable way to get you ready for the social dance floor!