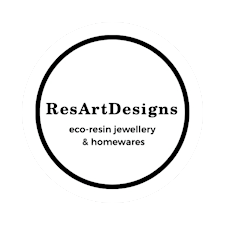 ResArtDesigns
ResArtDesigns uses sustainable and environmentally kinder bio-based eco resin which is formulated using plant based green technology. 
ResArtDesigns also uses 100% recycled & sustainable Australian made Sterling Silver 935 in all handmade earring hooks and S/S pendant chains.
Flowers, leaves, shells etc are collected in small amounts locally, and ethically. Any non-found inclusions are sourced from local florists and/or markets here on the Sunshine Coast Qld, Australia.
Rest assured there can be no exact mix of pigments, no two leaves or flower will ever be the same. 
Your item will ALWAYS stand out in the crowd.
Yours in eco-style. 
Nina x
Sorry, there are no upcoming events