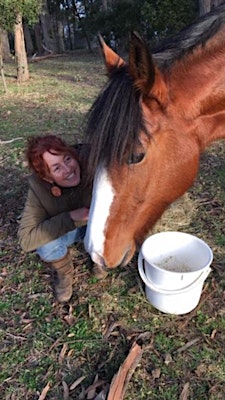 Rachael Gibson owner Heart of the Horse
Experience a profound form of healing involving horses. If you're longing for a change in your life, but just can't seem to take the next step, then this type of experience is for you. If there's a dark smudge of emotional pain that lingers and erratically storms no matter what you do, this may be the answer. If you just want to have a serene, gorgeous experience that heals, centres and realigns you, then this is just the thing.
I'll guide you through a remarkably, serene session involving horses to help you get through whatever it is that you are traversing at the moment. You'll connect with these magnificent animals, while I hold the space and facilitate the experience for you.  I'll ensure you feel supported and help you navigate whatever is holding you back or causing you pain.  The horses help you tap into incredible wisdom which you can harness to bring about profound healing and personal transformation.
By taking some time to be with calm and healthy horses, every part of you surrenders to the present moment. This is very powerful in helping you stabilise your nervous system and leads to a heightened awareness of the present moment. Birds unleash their songs, fresh air invigorates the skin and colours caress the senses, helping to soothe your nerves and help you relax. 
Healing sessions with horses also help you become aware of and unravel patterns that are no longer serving you. Let's face it, we all have a lot of those! The horses and I can assist you to work out what isn't working in your relationships and work with you to develop juicy, authentic connections with those around you.

Sessions involve practical tools that you can take back into your everyday life, giving you the opportunity to continue with ongoing healing and transformation. 
In case you hadn't guessed, I adore horses. They have been a part of my life since I was a young girl. I have also in some ways been helping others since that time as well. It's just who I am. Over the years I have formalised my healing credentials in addition to a vast array of processes, tools, and skills. This gives me a diverse and unique healing repertoire. 
I have been trained by the Victorian Equine Psychotherapy Institute and I'm certified in Equine Assisted Learning where we harness the wisdom of horses, in a facilitated environment, to help people explore aspects of their lives that are causing concern or even distress.  This certification is highly regarded and considered the most rigorous one that can be undertaken in Australia. My certification with horses combined with the healing processes and skills that I have cultivated in private practice for the last decade has led me to create an equine-based healing experience quite unlike any other.  I have a myriad of techniques that can be used to help you be the best version of yourself.  These can consist of reflexology, reiki, energy balancing and guided visualisations. Whatever process or tool I use may help to change the neuroplasticity of your brain and often assists in releasing outdated beliefs that can be negatively impacting your life.  For people interested in a healing session that does not involve the horses please visit my alternative website for room-based healing sessions www.thebalancechannel.com.au.
For the last 5 years, I have helped heal clients at a holistic residential wellness rehabilitation centre in Daylesford. I've treated clients there who have had to cope with the most extreme life conditions & personal trauma. Helping to heal and empower these clients, has enabled me to build a highly effective repertoire of skills to draw on in during our horse healing experience together.  A combination of all of these learnings allows me to bring to you a fresh and unique way to navigate this thing called LIFE.
275 Zig Zag Rd • Drummond North, VIC
$53.84
275 Zig Zag Rd • Drummond North, VIC
$53.84