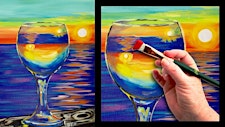 Prince Gallery
We are One of the best paint & Sip Chill Class  Evevt in Sydney! Welocme  to our Gallery Paint Sip Chill workshop!
Prince Gallery's 'Paint, Sip & Chill' events are about creativity and fun! Our Paint, Sip and Chill classes accomodate a minimum of 4 people to 60 people per class. A place where friends and family come to relax, celebrate and feel proud of your art creation and a safe place to discover your inner artist. no need drawing basis just Open your heart and open your mind to new possibilities and new relationships where your art journey can begin.
Our team of frindly professional Artist coaches will lead and guide you each step of the way to complete a beautiful artwork that you never thought you would dream of creating. Your art journey starts from here!
Bring your own bottle of drink and snack foods doft drink and we will provide all your art material needs. We paint with Acrylic paints on a blank canvas size 41x51cm or a size tailored to your event needs. We'll supply you with brushes, easel, apron and party glasses for your beverages. In a beautiful gallery setting, you will feel at home with the relaxing music. family and children are also welcome!
We have a variety of styles you can choose from including modern, classical, western, oriental, east meets west. It's up to your taste and what you favour!
Paint, Sip and Chill events are popular for special celebrations such as social events, date nights, weddings, corporate events, birthday and private party events etc.
24 hrs on Site free parking !
If displayed dates are unavailable to you, please feel free to contact Prince Gallery to schedule Paint and Sip events at alternative dates and times. 
Email hello@princegallery.com.au or Call Lan /Louise 0418 669 888 for more information 
Sorry, there are no upcoming events