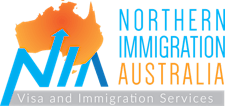 Northern Immigration Australia
Who is NIA and why you should choose us?
Northern Immigration Australia is a migration agent with an expertise in skilled migration, employer sponsored visas, family visas and investor visas. Coming highly recommended, Northern Immigration Services can assist you in the application process for a wide range of visas.
The founder and director, Manuela Seiberth, is a skilled migrant from Germany. Manuela came to Australia in April 2009 after completing her studies in political science and international relations. Initially, she came on a working holiday visa and all she owned was a backpack and a one-way ticket from Frankfurt to Sydney. While travelling around Australia she fell in love with the country and the people and decided she wanted to stay. It was in Darwin in the Northern Territory where she found an employer who sponsored her on a Regional Sponsored Migration Scheme visa through which she gained immediate permanent residency status. In January 2014, Manuela obtained the Australian citizenship while also keeping her German citizenship.
"I am a migrant myself and I know what it's like being in your shoes. I am originally from Germany and I came to Australia in 2009. My own migration journey and the difficulties I had inspired me to help others to make it easier for them. Migrating to Australia doesn't have to be hard – let me help you!"
Sorry, there are no upcoming events