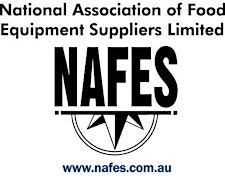 National Association of Food Equipment Suppliers (NAFES)
Welcome to NAFES, the NATIONAL   ASSOCIATION  OF  FOOD   EQUIPMENT  SUPPLIERS  LIMITED.
NAFES   is an organisation that focuses on bringing together Australian and New Zealand manufacturers, importers and  wholesalers of foodservice and bakery equipment to enhance the standing of the  industry. NAFES promotes ethical business practices, operates the CFSP program  in Australia,  and represents the industry to regulatory agencies. NAFES also provides  industry recognition to individuals for high achievement and contributions in  the food service and bakery industries in Australia.