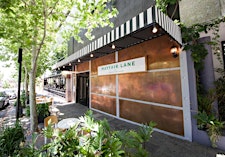 Mayfair Lane Pub & Dining Room
Mayfair Pub & Dining Room is built on the traditions of the Great British gastropub. Located in the beautiful tree-lined West Perth, Mayfair is both relaxed and up-market, without a hint of stuffiness.
Favouring timeless food favourites over faddish trends, Mayfair serves generous pub fare prepared simply and deliciously. Think bangers 'n' mash and West Australian seafood platter, and mouth-watering aged steaks supplied by local farmers.
The hearty menu is matched with an award-winning wine list curated by owner and sommelier Foni Pollitt. 
Mayfair Lane embodies generosity, quality and ceremony. Your comfortable local, special place, and home away from home.
Open for lunch, dinner and functions. 
Monday – Friday 11.30am – late
Saturday 11.30am – late
Mayfair Lane Pub & Dining Room • West Perth, WA
$165.25
Mayfair Lane Pub & Dining Room • West Perth, WA
$161.16