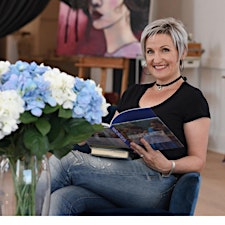 Lee Teusner Art Studio
Hi there, I'm Lee
I'm a mixed media artist and teacher inspired by exploring the realm of the feminine and work to reveal the many faces of a woman, from exotic to mysterious, romantic to abundant and beautiful. Colour, texture and painting an emotional world are all a part of the process.
It is essentially the feminine that I love to express. This subject makes me feel as I want other women to feel – treasured, extraordinary and feminine. There are elements of realism and fantasy in my painting, to express the complex contradictions of a woman's nature, strength and delicacy, humility and boldness, elegance and simplicity; they reflect what it is within us that remains to be explored.
With intensive training I discovered that I truly connected with giving to others through teaching art.
As a result, I have added my own style of teaching to my art practice where students can connect with their creative energy in a relaxing, fun learning environment and achieve a beautiful piece of art at the end of the session.
During the creative process I share how to use different (mixed) mediums on canvas. Participants will love the variety as they explore techniques to reveal the story of their chosen character to create a unique piece of art. They can use the techniques on any subject matter.
It's a privilege to have the opportunity to teach others because many people are a little afraid to make a start. I like to help be the difference.
Sorry, there are no upcoming events