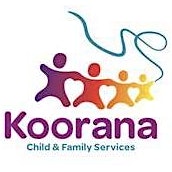 Koorana Child and Family Services
Koorana Child and Family Services - All children. All abilities. All possibilities
Our Vision
Our vision is for children and their families to have supportive connections, discover possibilities and participate to their full potential in all aspects of family and community life.

Our Mission
We create and support learning and social opportunities in caring environments for all children and young people in our areas of operation.
Koorana is a purpose driven, community owned non-profit organisation, that was established over 43 years ago. Koorana supports children 0 to 6 years with a range of early intervention services delivered by a transdisciplinary team including specialist teachers and allied health professionals. Koorana also supports older children aged 7-18 years old using a multidisciplinary approach via:
Early Childhood Education
Child and Family Support Programs
Early Intervention and Disability Services
Sector Capacity Building
Our services can be delivered at the school, home or at any other place which is convenient for the child and their family.
We also provide a range of other services such as a sibling program to support the siblings of children who have a disability, 14 supported playgroups as well as two inclusive preschools.
Registered NDIS Provider
Registered with ACNC
Acknowledgment of Country - We acknowledge the homelands of all Aboriginal people and pay our respect to Country.
Koorana Child & Family Services Ltd
1A Cleary Avenue, Belmore, NSW 2192
PO Box 403, Belmore NSW 2192, AUSTRALIA
Call us (02) 9750 4100
Email us enquiries@koorana.org.au
Sorry, there are no upcoming events