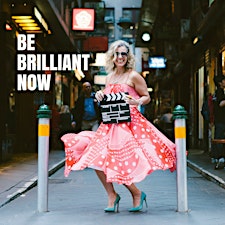 Julie-Anne Black | Be Brilliant Now
Be Brilliant Now is a training and mentoring company, created by Julie-Anne Black. We specialise in showing creative entrepreneurs how to be bold and irresistible communicators in life and business. 
Our method includes team culture trainings, masterclasses and high performance mentoring with a showbiz twist.
Julie-Anne combines 22 years experience to share the secrets she's learnt both on camera and behind the scenes as a production manager for the Sydney Olympic Games Opening Ceremony and producer of some of Australia's favourite TV shows, including Who Wants To Be A Millionaire. She's worked with the who's who in Australian television and entertainment including Ray Martin, Eddie McGuire, Marcia Hines, Julia Morris and Larry Emdur to name a few. It was in these high-pressure environments she became acutely aware of what destroyed the confidence, creativity and performance in both individuals and teams.
"When you have millions of people preparing to tune into your production you only have one take and there is no room for error and it's so much harder to be brilliant when you're telling yourself you're ordinary."
Throughout the years Julie-Anne has witnessed so many bright stars standing in the shadows of their own potential wishing they had a voice of influence. They felt scared, guilty and even ashamed to truly shine.
She found her clients shared 3 key problems:
They struggled to express themselves as the expert in their field

Their uncertainty sabotaged their confidence to connect and engage

They were working hard only to realize they were missing out on cool opportunities 
Perfecting her signature programs, Julie-Anne gives you the exact blueprint you need step into the spotlight with a message that inspires and body language that influences. She'll show you that communication is a system, it's not accidental and as long as you follow the steps you will perform like a superstar all the time.
Julie-Anne believes the most spectacular results in people occur when your confidence, creativity and performance intersect, and when you unleash these aspects remarkable things happen.
Julie-Anne is known for showing you how to take charge of your success and happiness by boosting your communication skills, shedding those BS excuses and producing a life which is more compelling to live than a hit TV show is to watch.  
Her clients, students and audiences leave feeling inspired and wowed about their own capacity to be brilliant now. 
Sorry, there are no upcoming events