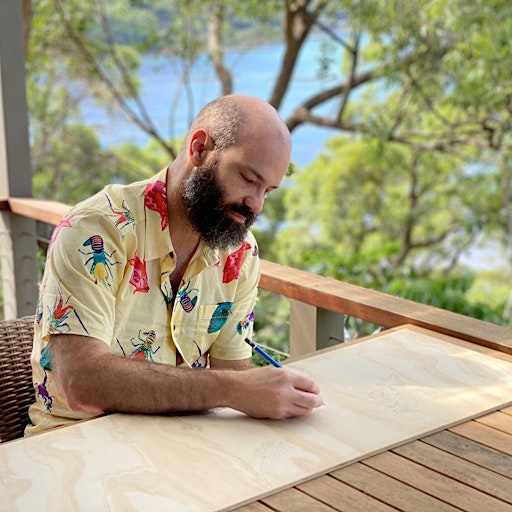 Joshua Bollback Butler
I'm a local artist, with my studio at Enmore full of Luminance pencil shavings and boards with rich waxy flora and fauna scenes that I use to share Nature's stories she's speaking to me to others.
Coming from a converted dairy farm in MacDonald Valley, just over the hill from St Albans, Nature and my childhood merge together in colourful words and pictures.
Now in the epoch of Sydney, with shows, exhibitions and pioneering an art community called 'open fire art nights' (where creatives of all kinds and disciplines show and share the works and ideas they've been up to around an 1840s fireplace next to the Harbour Bridge), life's been a whole lot noisier in a different way.
Instead of cockatoo and kookaburra screeches along with the more pleasant honeyeaters' songs and lyrebirds who copy everything, my loft studio in Enmore hears bands of different sorts along with vehicle and passers-by chitter chatter and sounds. But amidst this, I still see and single out the lorikeets, galas, honeyeaters and minors I see to refresh, remind and recentre Nature's voice in my life.
I've had countless shows and exhibitions around Sydney and was a finalist for the M16 Drawing Prize in Canberra. Just recently I've been through a beautiful heart-warming time at Saatchi Art's The Other Art Fair, here in Sydney's Cutaway at Barangaroo, with a close to sold out show. So right now my studio's brimming with new works in progress and commissions as I get ready for upcoming shows and exhibitions.
Sorry, there are no upcoming events