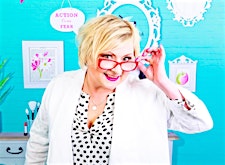 Jenny De Lacy
Jenny is a video marketing coach, educator and speaker, with 25 years experience creating and delivering programs to audiences from 2-200 across diverse industries. Jenny helps successfully implement video marketing for her clients to grow their people, profile and profit.
From generating ideas to bring your video marketing to life, to building a profit focused, client centred strategy, Jenny inspires and motivates clients every day to use video marketing to grow their business and increase their profitability.
Through workshops, online programs and 1:1 intensives, Jenny works to implement video YOUR way.
Rejecting random acts of video marketing, and needing an uncomplicated system to follow to build her business visibility, Jenny developed a five step system that makes adding video marketing simple to implement in any type of business, and do it like a star.
A solo mum to three teenage boys, she can be found at co-working spaces and cafes avoiding taxi driving gigs and crimes against personal hygiene
Sorry, there are no upcoming events