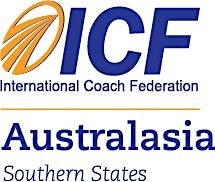 ICF Australasia Southern States (Victoria, Tasmania and South Australia)
"ICF exists to lead the global advancement of the coaching profession."
ICF Australasia Southern States aligns its strategy and activities around three strategic pillars:
Member Experience

External Stakeholder Engagement

Coaching Excellence
We are committed to supporting the professional development of coaches by providing opportunities for connection, continuing education and  engagement.  In doing so we enable the coaching profession to flourish and thrive.
The ICF Southern States Leadership Team is a group of experienced coaches and volunteer leaders who aim to:


Enhance member experience that engages and inspires a strong community spirit;
Provide value to members' ongoing growth and development;
Build awareness in the marketplace around the value of coaching and ICF credential;
Raise the profile of coaching and ICF in the broader community;
Facilitate co-creation of coaching for social change.
The ICF Values of Integrity, Excellence, Collaboration, Respect are at the core of how we advance the art, science and practice of professional coaching.
Sorry, there are no upcoming events