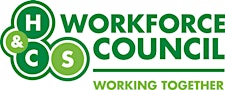 Health and Community Services Workforce Council Inc.
Since we were founded in 1992, the Workforce Council has supported the health and community services industry to meet their current and future workforce needs, and has developed into one of Queensland's leading industry workforce bodies.


We enjoy a reputation as an inclusive and active peak body that delivers insightful, informed and intelligent support in workforce insights, strategy and capability. 


Our team cares about the industry and has helped thousands of people to make positive improvements in their day-to-day work practices across a range of disciplines and skill-sets.


Over more than two decades, the Workforce Council has developed unique and effective expertise which is underpinned by a truly collaborative approach and deep connections with industry, community and government.


We enhance the important work being done by health and community services workers throughout Queensland who provide essential services that make our communities healthier, more liveable and cohesive.


Our vibrant industry faces increasing pressure to meet the needs of communities, families and individuals right across Queensland. The Workforce Council provides practical support and sense of connection, helping you and our industry as a whole to work well together.
Sorry, there are no upcoming events