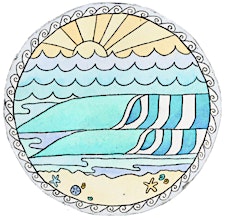 Hannah Katarski - Mermaid's Coin Surf Art
Hannah started Mermaid's Coin in 2013. It is a Fremantle-based business creating ocean-inspired 'surf art' that is vibrant, retro and fun. 
Hannah works primarily with printmaking techniques and watercolours. She has taught for Perth Makers Market, Workshop Freo, and City of Gosnells. A qualified teacher, she offers classes from her home studio.
Sorry, there are no upcoming events