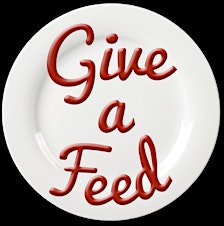 GIVE A FEED
GIVE A FEED CHRISTMAS FEAST 2018 is an initiative of GIVE A FEED which is an initiative of the  Rotary Club of Heirisson supporting Foodbank WA. 100% of the proceeds raised by Give A Feed are donated in full to Foodbank WA.
www.giveafeed.com.au
Give a Feed is an initiative of the Rotary Club of Heirisson, which started in 2011. Our target then was to supply 1,000 families in need with a Foodbank Christmas hamper and with the kind support of many we were able to help our goal of 1,000 families in need. 
This year Give a Feed is aiming to supply 2,500 Foodbank Christmas hampers to West Australian families in need. Although this number seems like a lot, it sadly falls short of the number of people who may be going without food on Christmas Day; a figure estimated to currently be more than 94,000 West Australians.
To reach our target we need your generous support. For just $25.00 you can help us provide a Christmas food hamper to a W.A. family in need this Christmas. And the best part is Foodbank WA turn your $25 donation into a Christmas hamper containing $70 worth of groceries. Each Christmas hamper is packed by volunteers and distributed by the Foodbank WA network to West Australian families in need just in time for Christmas, so they can enjoy Christmas Day and not go hungry.
You can support Give a Feed by attending our 2018 Give a Feed Feast, donating personally, Gift a Feed on behalf of someone special as a gift, become a Gold Plate Member or get involved as an Honourable Partner. You can even help by simply sharing this with your social network.
Thank you for your support. Wishing you a very Merry Christmas.
Give a Feed
Sorry, there are no upcoming events