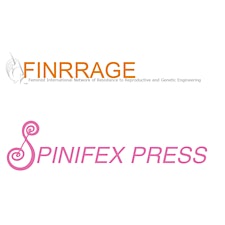 FINRRAGE and Spinifex Press
FINRRAGE (Feminist International Network of Resistance to Reproductive and Genetic Engineering) is an international network of feminists who are concerned with the development of reproductive and genetic technologies and their effects on women.
FINRRAGE emerged with the growing awareness among feminists that it is time to question the assumption that older and newer forms of contraceptives, the new reproductive technologies, and genetic engineering are neutral or even benign.
Read more about the aims of FINRRAGE at
http://www.finrrage.org/
SPINIFEX PRESS is an award-winning independent feminist press, publishing innovative and controversial feminist books with an optimistic edge. Established in 1991 by Susan Hawthorne and Renate Klein, the press now has well over 200 titles in print as well as many in ebook format.
For more information about Spinifex Press and to join the mailing list please go to:
http://www.spinifexpress.com.au
Sorry, there are no upcoming events