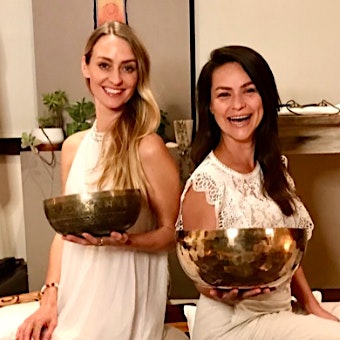 Elina and Viktoria
Elina has trained in sound healing in three continents, with a focus on singing bowls. She has been playing the bowls for over 15 years. Elina's passion with sound healing began during her journey with chronic insomnia. Singing bowls were one of the tools that helped her to regain her sleep. Now, as part of Elina's daily work as a sleep coach, she integrates sound vibration therapy into her programs to help her clients improve their sleep, reduce anxiety, calm the racing mind, achieve deep relaxation and reach altered states of consciousness. In addition to being a trained sound healer and sleep coach, Elina is also trained in theta healing, healing touch, holistic health, brainwave entrainment, shamanic studies, meditation, body psychotherapy, meta coaching, NLP and various human development frameworks.
elina@thesleepexpert.com   |   www.thesleepexpert.com   |   www.instagram.com/the.sleep.expert
www.facebook.com/TheSleepExpert
Viktoria has been practicing yoga and studying its philosophy for over 20 years. Born and raised in Switzerland, she moved to Los Angeles in 2000, where she attended her first yoga class and completely fell in love with the practice. After completing her BA in Business and Economics, she spent a decade in the corporate world before following her heart and transitioning to work for an animal welfare organization for which she still works. While travelling through South India in 2007, she was introduced to the singing bowls during her time at a Tibetan Buddhist monastery. In 2011, Viktoria completed Yoga Alliance's one-year Yoga Teacher Training. To help her students reach a deeper state of meditation, she began to integrate sound healing in her yoga classes. In 2017 she moved to Bondi Beach, Australia where she has continued her practice as a sound healer, offering sound healings ranging from private sessions to large-group corporate events. With her in-depth knowledge and experience in yoga, pranayama breathing techniques, chakras, and singing bowls, Viktoria helps her clients calm their nervous systems, decrease stress, and overcome anxiety. Viktoria has studied and trained in sound healing, pranayama, meditation, Ayurveda, and yoga philosophy in four continents, including obtaining certification by the notable Lama Tendar at the Medicine Buddha Centre in Melbourne. As a passionate animal protector, Viktoria believes that a healthy mind and a content soul will lead people to live from the heart; a life filled with love and compassion. Only then will they be able to express the full capacity of their potential kindness - to themselves, to each other and to all animals.
viktoria@seedoflifehealing.com    |    www.seedoflifehealing.com  |  www.instagram.com/SeedofLifeHealing 
Sorry, there are no upcoming events