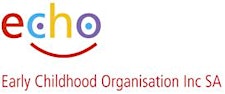 Early Childhood Organisation
EChO (Early Childhood Organisation Inc) is a group of South Australian educators and carers whose focus is on children from birth to eight years of age.
EChO is committed to developing the status, high quality and future direction of early childhood education.
Our Aims
1. Promoting and maintaining the visibility of early childhood education.
2. Providing quality professional learning for early childhood educators and carers.
3. Developing and maintaining links with other professional associations.
4. Promoting and supporting research into children's cultural, social, moral, physical and emotional development.
EChO membership is open to all educators and carers – teachers, child care workers, support staff and family day carers.
Sorry, there are no upcoming events