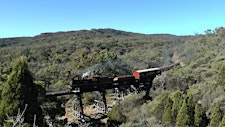 Downs Explorer
The Downs Explorer is a not for profit, volenteer run and managed Heritage Railway group based in Warwick Queensland, Australia.
We offer the widest range of main line heritage and sight seeing rail tours in Australia and operate in the most beautiful part of Australia, the famous Darling Downs and Granit Belt.
Book your adventure of a lifetime...
NEW Tours on Offer
Night train to Clifton with onboard entertainment and dinner in Clifton
Train to Wallangarra then bus through the national park, visit the chocolate factory and other attractions then catch the train from Stanthorps back to Warwick
More regular train Tours out of Toowoomba - Miles, Wyreema, Brookstead etc
Check us out regularly to see new Tours on offer...