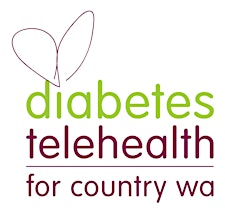 Diabetes Telehealth
Diabetes Upskilling for Country WA Health Professionals
Do you care for people who live with diabetes, and assist them in their education and support?

Do you want to ensure your knowledge of this increasingly widespread chronic condition is comprehensive and up-to-date?
 If so, then the Diabetes Telehealth service will be of interest to you.
Delivered by Diabetes WA through a partnership with the WA Country Health Service, Diabetes Telehealth builds diabetes management capacity in country WA by providing regular updates for health professionals with patients living with diabetes. The upskilling is delivered via videoconferencing technology (telehealth). Every month different diabetes-related topics are comprehensively covered, sometimes by staff within Diabetes WA, and sometimes by guest experts. Join us for some free professional development, in the comfort of your own workplace or home*.
The Diabetes Telehealth service is made possible by the State Government's Royalties for Regions program, as part of the Southern Inland Health Initiative, and delivered by Diabetes WA in partnership with the WA Country Health Service.
For more information about the Health Professional Updates, call Gill Denny at Diabetes WA on (08) 9436 6279 or email gill.denny@diabeteswa.com.au (Gill works Mon to Thurs).
The Diabetes Telehealth service also provides diabetes education and support services through telehealth to people in rural and regional WA, where local diabetes services are limited or do not exist. For more information about the services of the Diabetes Telehealth service, call Diabetes WA on 1300 001 880 (ask for the Telehealth team) or email telehealth@diabeteswa.com.au.
 * Conditions can apply, like bandwidth limitations or restricted technical support outside office hours.
Sorry, there are no upcoming events