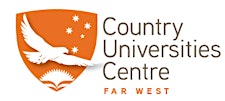 Country Universities Centre Far West
At Country Universities Centre Far West (CUC Far West) we believe that the future of an aspiring student should not be determined by where he or she lives.
The establishment of CUC Far West, in partnership with the Country Universities Centre, provides opportunities for local students to participate in supported Higher Education and achieve their educational aspirations from their hometown.
Local students now have access to a high tech supervised facility, tutorial and mentoring support and access to a network of like-minded students in our campus-like environment.
Country Universities Centre Far West • Broken Hill, NSW