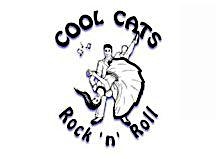 Cool Cats Rock 'n' Roll
Cool Cats Rock 'n' Roll is a fun and flexible dance studio that provides structured and professional dance instruction for a broad variety of 1930s to 1960's retro dance styles.

Start with the basics in Rock 'n' Roll, 4Beat Blues, Swing, or Rockabilly and move on to Advanced Styles, Triples, and Aerials!
Social classes (optional rotation), partners only classes, small group lessons, and advanced training - choose what best suits you.