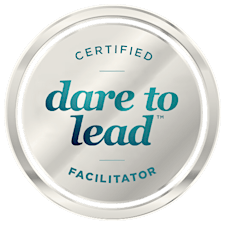 Collective Courage
About Collective Courage
Anna Ranaldo was amongst the first cohort of global leaders trained as a Certified Daring Greatly™ (2016) and Dare To Lead™ Facilitators (2018).  Since then Anna has trained 1000's of corporate leaders, in tact teams and schools in the work of Dr Brené Brown through Dare to Lead™, Dare to Lead - through Change, Rising Strong™, Call to Courage, Women in Leadership, Executive Leadership and intact team culture change programs.
With over 25 years of  experience leading and consulting in the corporate and public sector Collective Courage is about building brave leaders & courageous cultures.
Its tough work. Its brave. It delivers results.
Meet your Facilitator: Anna Ranaldo
Brené's research is a powerful game changer and augments the twenty five years of experience Anna has in helping leaders create more agile, creative and resilient organisations.  With a background in psychology, ICF ACC Executive Coaching and PROSCI change management Anna combines a passion for people with neuroscience and culture change.  Anna's career spans roles in Leadership HR, Organisational Development and consulting both internationally nand nationally. Clients include Shell Oil International, PriceWaterHouseCoopers, Telstra, Fulton and Hogan, Canteen, Local Government & Queensland Education Leadership Institute.   Anna combines a challenging, forthright style with great warmth and humour. She believes courage is contagious and that brave leaders emerge when we lean into; the tough conversation, ask the hard questions, name the unspoken, navigate disappointment, back ourselves and set clear boundaries for performance.
Email: anna@collectivecourage.com.au  I Web: www.collectivecourage.com.au
Majestic Roof Garden Hotel • Adelaide, SA
$1,320 - $1,617