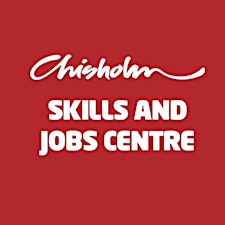 Chisholm Skills and Jobs Centre
The Chisholm Skills and Jobs Centre located in Dandenong CBD, is a free one-stop-shop to support individuals making a career transition, starting a job search and choosing training options. Our centre provides access to free confidential careers advice and a space for you to find jobs.
If you're looking to start a career, change your career or you're not sure what industry you would like to work within, the Skills and Jobs Centre is a great place to start.
The Skills and Jobs Centre works with local industries with job opportunities and placements.
Our Centre provides the following services:

Individual Services
- Career advice and counselling
- Skills assessments
- Workshops to improve job readiness
- Information on local jobs and training opportunities
- Referrals to support services

Employer Services
- Assisting employer with finding and training new staff at no cost
- Upskilling your currrent workforce
- Providing knowledge on employment trends

For further information please contact us on:
(03) 9212 4909
E skillsandjobs@chisholm.edu.au