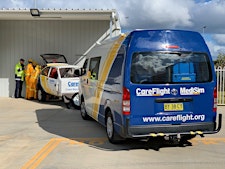 CareFlight MediSim
CareFlight is an Australian not-for-profit aeromedical organisation proudly voted as 2019's most reputable charity. Our mission is to save lives, speed recovery and serve the community.
We operate from locations in NSW, northern WA and the Top End of the NT. Our specially trained doctors, nurses and paramedics use helicopters, aeroplanes, medi-jets and road ambulances to bring a hospital level of care to over 6,800 patients each year.
CareFlight also has a suite of Education services we deliver including content on Pre-Hospital Trauma, Cardio-Pulmonary Resuscitation, Aeromedical Retrieval Training, Tactical & Hostile Response Emergency Access & Treatment, and Remote Emergency & Critical Care Trauma. Further to this we provides a variety of unique first responder training courses free of charge to communities across Australia, known as the MediSim program.
CareFlight has implemented some changes to our operations and working practices in response to COVID-19. We take our responsibility to our learners and communities we serve very seriously. It is with this sense of responsibility that we feel it necessary to do our part to prevent the spread of COVID-19 and cancel our workshops for the time being.
Sorry, there are no upcoming events