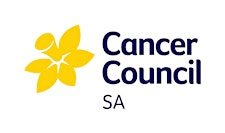 Cancer Council SA
At Cancer Council SA, every minute, every hour, every day we're getting closer to a future without cancer.
We are the only organisation in South Australia that works across every area of every cancer:
Cancer research - Investing in the best cancer research in SA, including Cancer Council's Beat Cancer Project, a major cancer research partnership (with the South Australian Health and Medical Research Institute and the SA Government) that aims to find more cancer breakthroughs
Cancer prevention – Raising awareness in the community about the benefits of screening and early detection for bowel, breast and cervix cancer and ensuring the community are informed about the lifestyle factors which contribute to up to 50% of cancers.
Cancer support - Providing dedicated support services that aim to reduce the practical and emotional impact of cancer—like Cancer Council 13 11 20 where qualified cancer nurses discuss a range of matters with people affected by cancer, including carers, family, colleagues, friends as well as health professionals.
Advocacy - Advocating to government to provide the support required by people affected by cancer and implementing laws and policies that aim to prevent people from developing cancer.
We are here for people touched by cancer today and to prevent and manage cancer into the future
Sorry, there are no upcoming events