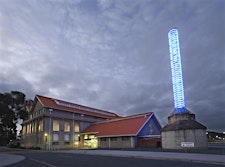 Canberra Glassworks
Built and funded by the ACT Government, Canberra Glassworks is Australia's largest cultural centre wholly dedicated to contemporary glass art.
Australia has developed an enviable reputation nationally and internationally for the quality and skill of its glass artists. By providing essential equipment, space and development opportunities through the Canberra Glassworks the ACT Government is giving these artists, and those that follow, opportunities to grow and further develop their glass practice, and to further contribute to this very special local industry.
Canberra Glassworks also provides diverse opportunities for visitors to interact with and learn about glass making and the heritage of Canberra's Kingston Powerhouse. Visitors can meet artists, see glassmaking as it happens, view exhibitions, take tours and have a hands-on experience working with glass.
Sorry, there are no upcoming events