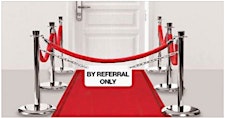 Business Builders Group
Built by referral marketing specialists, run by professional business development experts and supported by best-of-breed referral tools and training resources; Business Builders Group is re-defining the business growth process.
Each BBG Chapter of 20 - 30 non-competing small business owners and leaders meets once a month at a breakfast forum run by a professional facilitator, where they get to know like and trust one-another in a friendly, high-energy environment.
BBG members own or manage strong cashflow positive businesses and are striving to take their business "to the next level". They are not solo operators struggling to make a profit.
To find out how Business Builders Group can help you achieve your growth objectives, please register to attend one of our monthly Business Forums or a Briefing Session in a location near you
BBG membership is by invitation only and all applications are carefully screened to ensure complementary, non-competing businesses are grouped together.