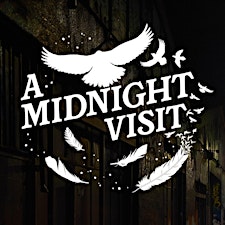 A MIDNIGHT VISIT - Journey to the edge of madness
A Midnight Visit is an immersive experience like no other: part choose your own adventure, part performance, part film-set, part playground, part sound world. Set over two floors and more than 30 rooms, designed to last 60 - 70 minutes. 
There are multiple arrival times for the performance, ranging from 5pm, depending on the day of the week.
Choose your date below and the available times will be displayed.
You are invited to visit the The Raven's Rest bar both before and after the experience. 
Limited Residency
amidnightvisit.com
You must be aged 15+ to attend the experience. If you are aged 15 - 17 years you must be accompanied by a responsible adult.  
There are adult concepts, uneven floor surfaces, small spaces, low-level lighting and adventures to be had.
If you have other accessibility requirements, please contact us before booking.