A personal growth retreat for women to reignite self-belief and purpose. Glamping under the stars, yoga, hiking, abseiling and reflection.
About this event
What would it mean for you each day to experience self-awareness, motivation, energy and strong self-belief? What do you think you would do?
Now is the time to focus on you, to grow, to flourish and start living your best life, confidently, mindfully and with purpose.
"It's all about taking things at your own pace, immersing yourself in new experiences and rekindling inner youth, flow and energy."
In this fun and unique 4-day growth and alignment retreat you will experience:
3 nights of GLAMPING in natural surrounds of Margaret River Retreat;
Challenge-by-choice activities such as abseiling;
Mindful hiking along the magnificent Cape to Cape Track;
Morning meditation and yoga (all levels);
Healthy and nutritious meals made with fresh local produce.

You will walk away from this experience with a reinforced feeling of confidence, self-belief and personal conviction:
Deeper understanding and acceptance of who you are;
Insights into your values and strengths to inform your life decisions;
Awareness of what's important to you and how to live your truth;
A deeper understanding of self-compassion;
The potential to evolve, elevate your future and live a life that you deserve;
Oh, and did we mention, perhaps some new lifelong friends?
For more information, please visit our event page on our website.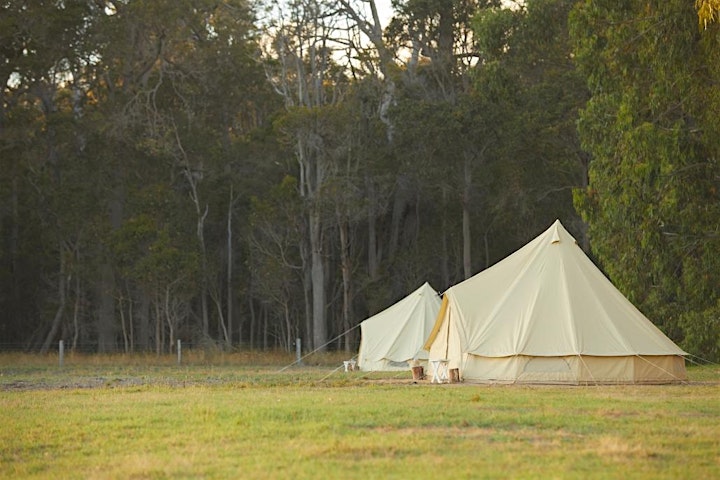 How your personal growth experience will be supported:
Two experienced facilitators: Ian an accredited Human Potential Coach and lead facilitator, and Sheryll, an outdoor experiential expert;
A Personalised Character Strengths Profile for each participant (online pre-retreat);
A personal Align Growth Workbook;
Interactive facilitation in a group setting;
In-depth learning and group discussion sessions with personal reflection time;
Nightly group sharing in a safe space around the warmth of a campfire.
~~~~~~~~~~~~~~~~~~~~~~~~~~~~~~~~~~~~~~~~~~~~~~~~~~~~~~~~~~~~~~~~
For more information on our cancellation policy and FAQs, please visit our event page on our website.
Note that the Registration Fee will be followed by a Discovery Call with one of the facilitators. This will provide you an opportunity to ask questions and the evaluation of the suitability of the Retreat for you. Following this you will be sent an invoice for the balance of the retreat investment.
As the first adventurers in Zuberant Life's inaugural retreat, we are offering you a 20% discount to honour your courage, sense of adventure and your commitment to your future self.
Investment per person is $2,395 (including GST) less 20% discount, i.e. $1,916 for this retreat. The $195 registration fee deposit is deduced off this, with the balance of $1,721 payable before 25 March.
EARLY BIRD OFFER: A free book will be given to the first 2 people to sign up and pay in full. (value of the book is $30).
As we want to create an intimate, safe space to grow and the opportunity for everyone to engage fully, we're limiting the retreat to only 14 places. As numbers are strictly limited, we operate on a first come, first served basis but will definitely keep you on the waiting list for the next event.
We reserve the right to reschedule the event if minimum numbers are not met. We will contact you in this event and either refund or transfer your payments to the new date.
Any questions, feel free to contact us at retreats@zuberantlife.com