Description
An Introduction to Angel Investing
Come and join us in this webinar and learn from experienced investors within the Victorian startup community on Angel investing, including best practices and strategies on building up your portfolio.
Key panellists: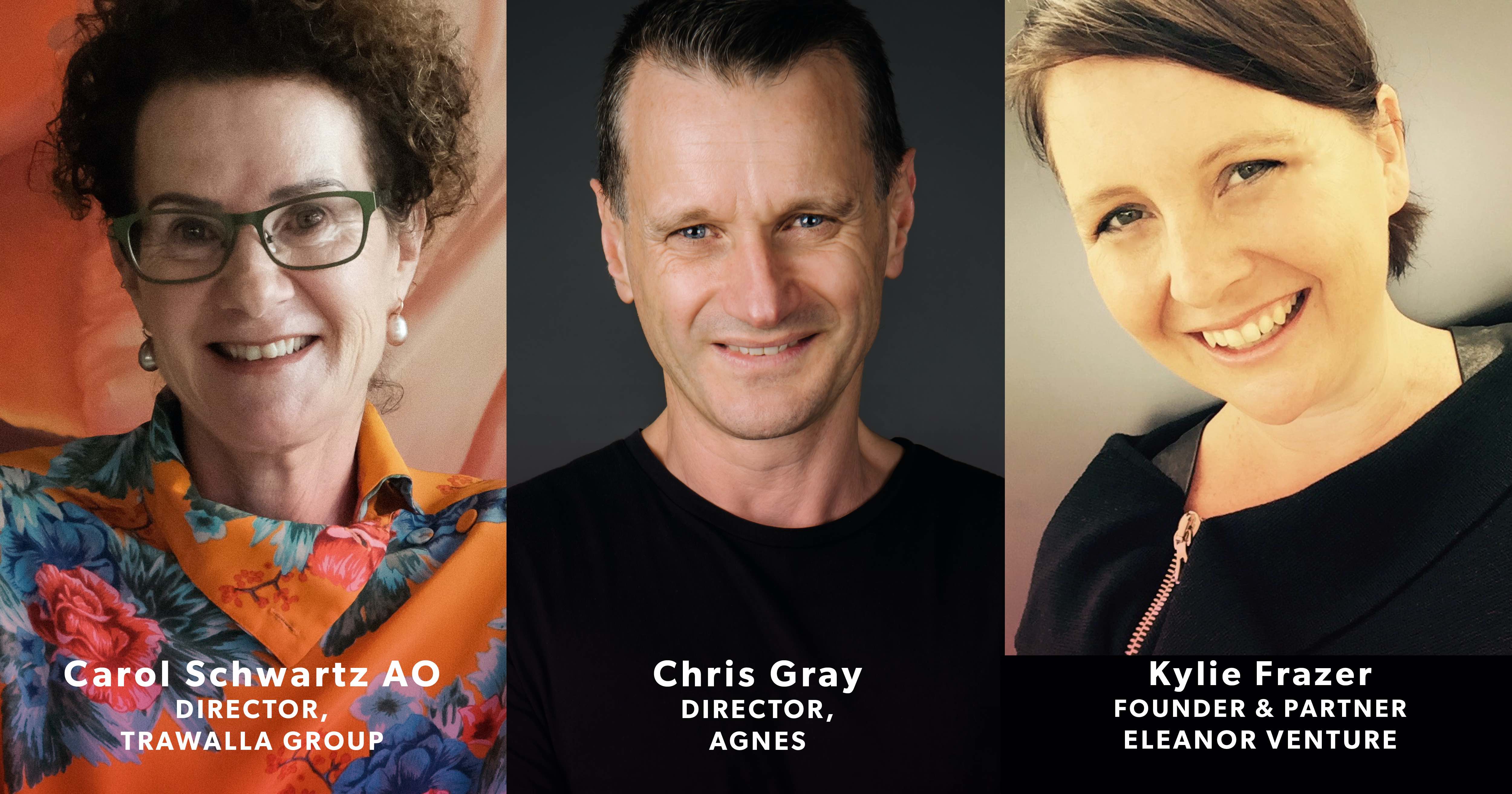 Carol Schwartz AO
TRAWALLA GROUP
Carol Schwartz AO is one of Australia's most dynamic business leaders with a career
spanning property, the arts, finance, government and health sectors. Having been nominated an "eminent business leader" by the Australian Government, Carol has conducted significant inquiries on behalf of government, chaired major government boards as well as chairing and participating in high level private company and listed company
boards. Carol is regarded as one of Australia's leading spokespeople on the issues of governance, social enterprise and women's leadership.
Carol was appointed an Officer of the Order of Australia in the 2019 Queen's Birthday Honours for her distinguished service to the community as a supporter of women in leadership roles, to social justice advocacy, and to business. Carol also received the Centenary Medal in 2001 in recognition of her outstanding service as a leading business executive and board participant. Most recently Carol was awarded an Honorary Doctorate from Monash University, was inducted into the Australia Property Hall of Fame, made an Honorary Life Member of the Property Council of Australia and was recognised by Ernst & Young as the 2018 Champion of Entrepreneurship, Southern Region. Carol's current roles include, Director; Reserve Bank of Australia, Director; Equity Trustees,
Chair; Our Community, Chair; Women's Leadership Institute Australia amongst many others.
Chris Gray
AGNES
Chris is an Australian business mentor, company director and investor. Chris has more than 20 years' experience in technology, private equity and investment in Australia and the UK.
Chris established Agnes to enable a community of entrepreneurs to work on care models and technology solutions that improve the health & wellbeing of the elderly and most vulnerable in our community.
Chris is also a co-founder and director of 5point Foundation, a private ancillary fund that supports not for profit organisations who solve issues affecting children and families.
Prior to this, Chris' co-founded iCareHealth, the leading clinical care and medication management software for aged care providers in Australia and the UK. iCareHealth Australia was acquired by Telstra Health in 2014. The UK operations of iCare Health were acquired by the Access Group in 2018.
In 2001, Chris was part of the management buyout of D&B Australia and New Zealand. D&B was successfully exited to Carnegie Wylie in 2007.
Kylie Frazer
ELEANOR VENTURE
Kylie is a founder and partner of Eleanor Venture, an early stage tech investment syndicate. Eleanor Venture encourages new investors to build their own diversified portfolios, with minimum cheque sizes of $5,000. Prior to investing, Kylie worked as a specialist capital raising/M&A lawyer and spent 15 years advising on transactions across a variety of sectors including technology, resources, agriculture and consumer products. Kylie has started and run technology businesses (with varying degrees of success) and has leveraged this experience to help other emerging companies secure funding and scale, including via her role as a Startmate mentor.
Event Time: 1:00pm - 2:00pm AEST
Financial Disclaimer
The information contained in this webinar should not be interpreted as professional advice. We recommend you seek independent legal, financial, taxation or other advice before engaging in any investment to ensure that it takes into account your unique circumstances.
Organiser of Zoom Webinar: An Introduction to Angel Investing