Description
This is a call out to all Registered and Non-Registered Disability Service Providers!
Get the benefit of hindsight, hear from business owners that went through the NDIS trial 4.5 years ago in the Newcastle area.
If you are in the Disability Service Provider space, we invite you to come along to an event that will share living examples of how to be innovative in all facets of your business. The panelists share their own lived experience of starting or running a business through the NDIS trial, in the Newcastle area, 4.5 years ago.
Peer to Peer Learning Environment

Lived Experience Shared

Access to a local, professional and experienced Business Advisor for 4 hours at no cost to you
The biggest challenges in the space include; profitability on line items, TPV, reaching new clients, agile business methodologies and how to remain on task and avoid burn out during this time of disruption. Let's also not forget the age-old questions of "Register or Not To Register" as an NDIS Service Provider.
Our impressive line-up of panelists have hard learnt lessons to share. Lessons include how they adapted their business and identified opportunities to innovate, that has had a direct positive impact on their profitability and sustainability.
Panelists include:
Each panelist will share their wisdom and ideas for 15 minutes, with a 5 minute window for Q&A direct from the audience to follow.
At the end of the event there will be networking opportunities where we encourage the introductions of business owners to possible key partners. It's all about facilitating possibilities of working smarter, together as an industry.
Click on the image below to watch a YouTube video about the event...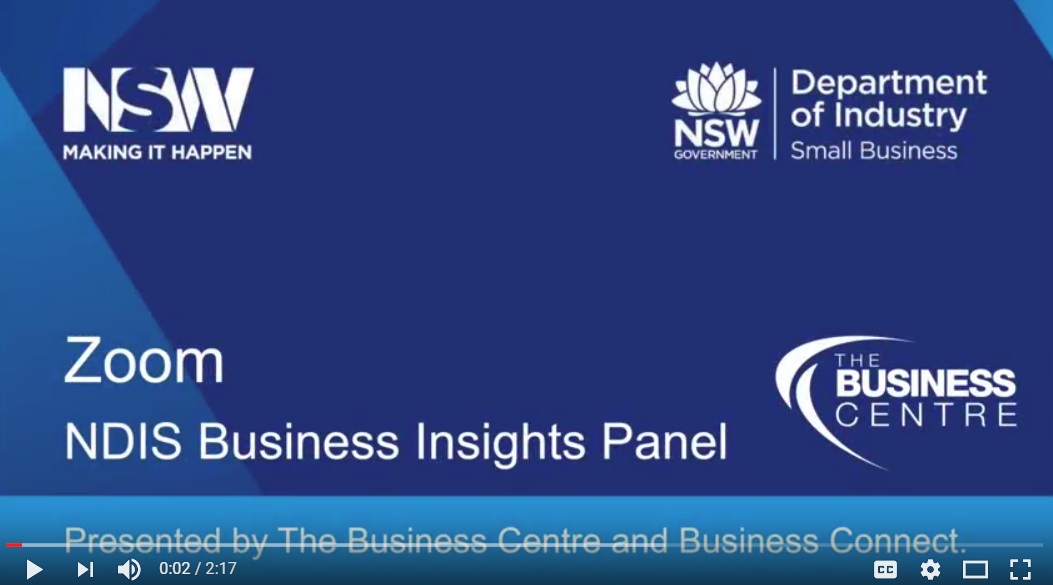 The team from the Southern Region BEC will be supporting attendees into the future with one on one business advisory services. Yes, you can receive four hours of advice for free following the panel event, at a time of your choosing.
For more information please contact the Business Centre on 02 4925 7700 or email info@businesscentre.com.au
This event and Business Advisory services under the Business Connect program are funded and supported by the NSW Government through the NSW Department of Industry.