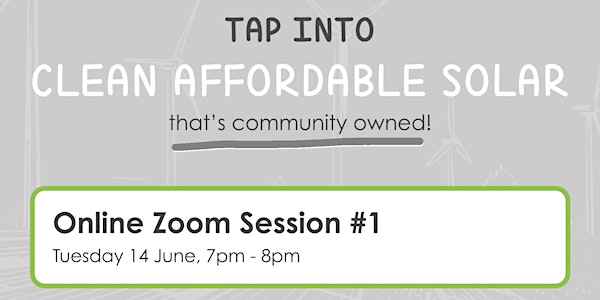 ZOOM # 1 Community Discussion | Tuesday 14 June 7pm - 8pm
Come along to a FREE online session & learn more about funding solar for your community building, business or facility.
About this event
Hosted by the Bendigo Sustainability Group this session is a chance to hear about local innovative solar projects that are community driven & owned.
It's also a great opportunity to ask your questions, understand the benefits, & access support for your own solar ideas & projects.
FREE to attend - register NOW, via the green register button above!
This community discussion is one of 6 sessions happening in May & June:
In Person Community discussions, with refreshments included:
- Swan Hill, Monday 6 June, 12.30pm – 2pm
- Kerang, Tuesday 7 June, 2pm – 3.30pm
- Echuca, Thursday 16 June, 2pm – 3.30pm
- Wedderburn, Friday 17 June, 2pm – 3.30pm
Online Community discussions, Zoom links provided after registration:
- Zoom Session #1, Tuesday 14 June, 7pm – 8pm
- Zoom Session #2, Thursday 23 June, 7pm – 8pm
To register for additional sessions visit: http://bsg.eventbrite.com
For more information about this initiative visit: www.bsg.org.au/solar
If you have any questions about this session, please get in touch with Rachel via makeachange@jumpleads.net