Zone 2 (Red Zone) - Cooly Rocks On™ 2019

Saturday, 8 June 2019 at 6:00 am

-

Sunday, 9 June 2019 at 5:00 pm (AEST)
Event Details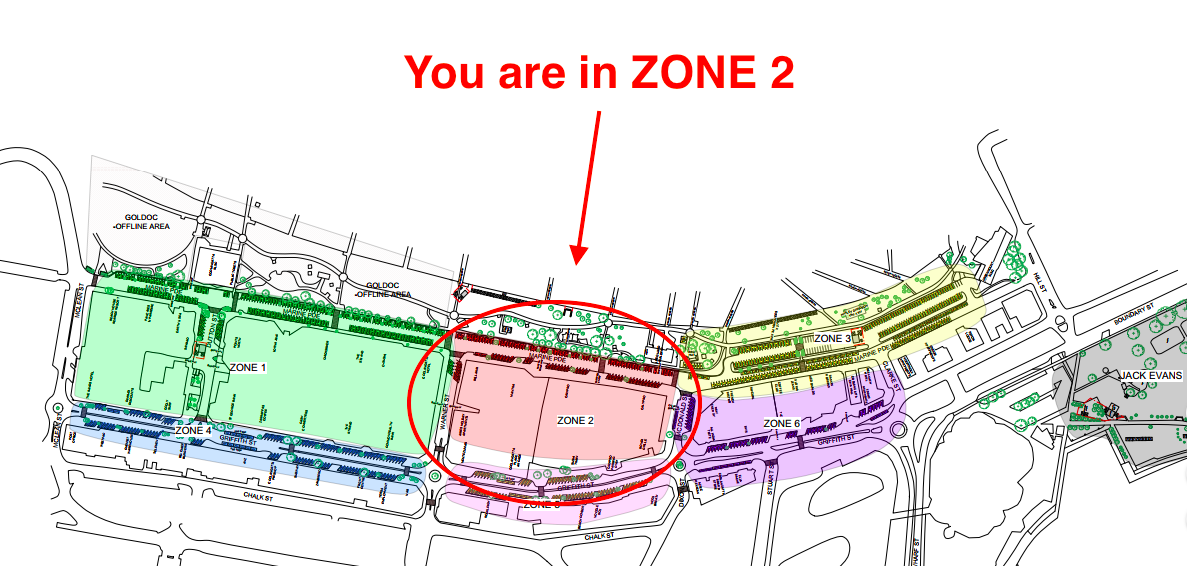 From 5th - 9th June 2019, the Coolangatta foreshore is transformed to a nostalgia hub with everything there is to love about the 50's, 60's and 70's. Music, dancing, cars, nostalgia and good old-fashioned family fun are all on the program, right here in one of the best destinations in the world.
This year, Cooly Rocks On™ presents a star-studded line-up of rock'n roll and rockabilly bands, plus all the usual Festival favourites. Get along to as many events as you can squeeze in and make the most of the party-fuelled atmosphere.
Contractual Terms and Conditions
Cooly Rocks On™
"Show and Shine" Display
When you secure your registration and choose to park in our Event precinct, and on payment completion you are agreeing to the contractual "Terms and Conditions" which are clearly posted on the Event website
(Full "Terms and Conditions" can be found at: www.http://www.coolyrockson.com\information/terms-conditions/)
You confirm all information provided is correct and true,

You understand Event Photographers may take a photo including or of your vehicle. These photos will be used in Social Media and Marketing at the discretion of the Event Organisers,

All display vehicle owners or their Club's appointed officer must sign the "Terms & Conditions" at the Event Registration Desk on registration at the Event to confirm that they have read, understood, and will abide by the "Terms and Conditions" contained therein.
You must
Obtain a valid pass at the Event Registration Desk and display it on the dashboard of the vehicle while parked so that it is clearly visible to a person standing next to and facing the front passenger side of the windscreen of your vehicle. A ticket or pass is valid if it is issued by or on behalf of Cooly Rocks On™ and if the date and time of expiry of the ticket or pass is legible on it and it is not defaced, mutilated, altered or obscured in any way, and
Park only in marked bays or as directed by the Event Organisers and comply with parking signs.
1. Insurance:
All vehicles on display must be insured. Insurance must cover the driver and the use of the vehicle for the date of the Event, in compliance with the Road Traffic Acts.
It is recommended that Clubs should be indemnified against injury, damage or loss sustained by third parties arising from any displays or equipment in use. The minimum indemnity should be $5,000,000 (five million). Clubs should provide a copy of their public liability insurance which must be current at the time of the Event for the duration of the Event.
2. Rules regarding the display of vehicles: 
If vehicles are left unattended even for a short period of time the doors must be locked,

Keys should never be left in the ignition,

The handbrake must be on at all times,

It is the vehicle owners' responsibility to ensure their vehicle is parked in such a way, and that any necessary precautionary measures are in place, so that the vehicle cannot roll forward or backward. This may involve the use of "chocks",

Smoking is prohibited near to vehicle's engine and fuel tanks,

Motorcycle owners' must ensure their stand is secure and/or a suitable plate is used if necessary, and

Once a vehicle is parked in its allocated display position, the driver is requested not to move the vehicle until the end of the daily Event unless they have the permission of the Event Organiser/Safety Officer and support of a designated Event steward / marshal.
3. Setting up: 
Display vehicle pass holders are required to arrive between 5.00am and 7.00am on the day of the show (event is open from 10.00am to the general public),

It is requested that all exhibiting vehicles are in place by 9:00am,

You are requested to park as directed by our Event stewards / marshals. The bays are approx. 3m wide and 6m deep, and

Please adhere to the 15km/hr speed limit.
4.  Marquees and temporary structures:
Only booked Clubs are permitted to erect a marquee. An appropriate written risk assessment must be submitted in advance of the Event to the Event Safety Officer, along with Public Liability Insurance, minimum cover $5,000,000 (five million).
Temporary structures must only be assembled by individuals experienced and competent in their assembly. This must be agreed in advance with the Event Organisers.
Please note: No spikes/pegs are to be used (only sand or water weights are to be used on marquees)
5. Advertising:
No advertising is allowed on any private exhibiting vehicles.  All Clubs are invited to display a banner or board with their name clearly indicated. Clubs may use our Event to promote their activities and recruit new members and sell Club regalia. Other than Club regalia, no merchandise, autojumble (car parts) or spares to be sold from Club stands or private car exhibitors.
6. Clubs: 
A full and final list of names, vehicles and registration numbers of exhibiting vehicles should be sent to the Organisers no later than 7 days before the start of the Festival.
Club Chairpersons, Secretaries or appointed officers can sign the "Terms and Conditions" on behalf of their members when the Clubs Public Liability Insurance Certificate is provided. Due to space limitations priority will be given to older vehicles – display spaces are allocated at the sole discretion of the Organisers.
Clubs must assign a named person to be responsible for their Club site and ensure that all litter from the site is removed daily as required.
7. Barbeques:
Fires, barbeques and similar open flame appliances(equipment) are not allowed on any part of the Event precinct / site.
8. Camping:
Please note: There is no camping on site for Car Entrants. Local Council ordinances do not permit nor allow camping in a public place.
9. General:
All Car Entrants are expected to comply with all reasonable instructions provided by the Event staff and volunteers. Car Entrants are expected to keep the area around their exhibits clean and clear of rubbish and debris.
Connecting Southern Gold Coast Ltd – Cooly Rocks On™ Festival accepts no responsibility for loss or damage to property at the Event.
Please note: City of Gold Coast Council Parking signs must be adhered to and are in force during the Event (unless they have been covered by Council Officers, the replacement signs from the Event Organisers are then to be complied with).
10. 2020 Registrations – Advance booking for Cooly Rocks On™ 2020 (Secure your registration with a $40.00 deposit):
Please note: You are able to secure and register your site / location for the 2020 "Show and Shine" during your current 2019 "Show and Shine" registration with an additional $40.00 deposit payable. This deposit does not attract a booking fee and a credit will be applied to your 2020 "Show and Shine" registration booking for the same site / location when registrations open for the 2020 "Show and Shine". Deposits will only be refundable pre- 31st October 2019.
FAQs
Please click here for step-by-step instructions on booking car space tickets in this system
Do I have to bring my printed ticket to the event?
Yes, you will need to bring your printed ticket to the event in order to pick up your Car Pack. Information will be sent out in May 2019 with details and dates of when and how you can pick up your Car Pack. 
Do I need my make and model and registration number at time of booking?
You will need to have the make and model for each car at the time of booking, and these details will need to be entered into the space provided in the booking section. If you do not have the registration number for each individual car at the time of booking, please select the 'I don't have my registration number' option in the drop down menu. You will be able to complete the booking without the registration details, however you will need to complete this information prior to the festival. 
For instructions on how to edit/add information in your booking after payment, please click here.
If your car is not registered please select the 'My car is not registered' option from the drop down menu and leave the registration number space blank.
What's the refund policy?
We do not refund entries. You are able however to transfer your entry to another holder. Please see below information for transferring entries.
Is my registration fee or ticket transferrable?
Yes you can easily transfer your entry to another holder.  Firstly, you will need to log into your account by clicking here or you can open up your confirmation email and click onto the 'Log in to access tickets and manage your orders'. Here you will be asked to either Log in (if you already have an account) or sign up for a new account.  

If you don't have an account, 'Sign up' and follow the steps to log on to your account. Once you are logged in, click on to your account name (at the top right) and then click on to 'Tickets'.  Once you have clicked on to your ticket you can press the edit button to edit the entry details.  Make sure you press 'Save' once you have finished updating your details, and print the updated ticket out for collection of your Car Pack from the "Ocean Plaza" Registration Marquee.

Please Click here for detailed step-by-step instructions on how to transfer or edit details on your entry information.
Can I update my registration information?
Yes you can update your registration at any time by logging back into your account and editing the ticket information. Please Click Here for information for transferring an entry.
Is it ok if the name on my ticket or registration doesn't match the person who attends?
You will need to ensure that the make, model and registration are correct on the ticket when collecting your Car Pack. You are able to go in at any time and update your entry prior to the Festival (please Click Here for further information on how to edit information on an existing booking).

 COOLY ROCKS ON™ is and initiative of Connecting Southern Gold Coast Ltd.
Save This Event
When & Where

Coolangatta
Marine Parade
Coolangatta, QLD 4225
Australia

Saturday, 8 June 2019 at 6:00 am

-

Sunday, 9 June 2019 at 5:00 pm (AEST)
Add to my calendar