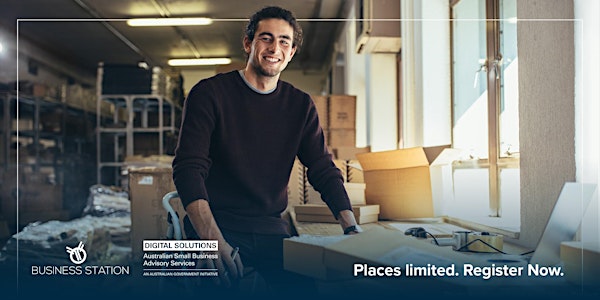 Zero to Hero – What can a website do? (Websites) by Jarryd [1OW]
Sales Have Ended
Registrations are closed
Thank you for your registration to our ASBAS Digital Solutions Event.
Sales Have Ended
Registrations are closed
Thank you for your registration to our ASBAS Digital Solutions Event.
Zero to Hero - Discover the expansive range of what a website can do.
About this event
PLEASE NOTE: To register for this event you must be a business (0-19 employees)  and provide your ABN. 
This session will be recorded and sent to everyone who has registered. Register now!
Level : Intermediate
Date/Time:
Monday, 29 November 2021
WA: 11:00 AM to 12:00 PM (AWST)
NT: 12:30 PM to 01:30 PM (ACST)
QLD: 01:00 PM to 02:00 PM (AEST)
Come on a journey to explore the capabilities and the differences between a basic website or landing page and an online digital solution.
We explore the simplest of website to the most complex, share some examples, insights and give you a taste of what is really possible in business.
This workshop is brought to you by Business Station and AusIndustry under the Digital Solutions Program.
ABOUT PRESENTER
Jarryd lives and breathes business, innovation and entrepreneurship.
Having created and launched several businesses, Jarryd has experienced the highs and lows of the business world and armed himself with the knowledge to support it.
Over the past few decades, Jarryd has immersed himself into various industries and environments to build knowledge and experience to support others.
A leader and activist for community development and eco-system building, Jarryd is passionate about supporting the growth of entrepreneurs, innovators and business owners throughout regional Qld.
Together with multiple degrees in Business, Marketing, Graphic & Web Design and trade qualifications as a diesel mechanic, Jarryd's firsthand experience and deep understanding of the business world and innovation positions him as an insightful and inspiring advisor.
#digital #businessstation #digitalsolutions #zerotohero #websites #onlinebusiness #solutions
About Digital Solutions - Australian Small Business Advisory Services
Digital Solutions is one of the most generously supported digital transformation programs for small business by the Commonwealth Government. This iteration of the program has been run by Business Station in QLD, WA and NT for three years and has had a significant positive impact on the small business community.
This event will give you the chance to learn about the details of the program, what's on offer and who can access the free or highly subsidised support, training and resources! Perhaps you will find them beneficial for yourselves, your network or your clients.
To better understand what's on offer, we will encourage each attendee to register themselves to the program before the event, or otherwise by attending this workshop, you will be registered.
Important – Participating businesses must be aware that this information will be provided to the Commonwealth Department of Industry, Science, Energy and Resources for program evaluation and reporting purposes; and businesses may be approached by a representative from the Department to complete a survey on the services provided.