Sales Have Ended
Registrations are closed
Ticket Registration has Concluded for [ZebbieLAN] X-mas 2016. Thankyou to Everyone who has Registered & We hope to see you all Tomorrow.
Sales Have Ended
Registrations are closed
Ticket Registration has Concluded for [ZebbieLAN] X-mas 2016. Thankyou to Everyone who has Registered & We hope to see you all Tomorrow.
Description
[ZebbieLAN] Is Back for X-mas!!!!

---
1. Basic Info
Event Starts at 10:00am, Please bring your Rego as we will be requiring it prior to the Start of the first Tournament at 11:30am. If you are unable to make it to the event prior to the Start of the First Tournament, please contact the admins via the Facebook Page or Steam Group to let us know, otherwise we will open your spot up to other people.
Lunch & Tea are included in the Day, However you are free to bring your own food if you wish.


Event Cost (Pay at the Door):

$15 Registered via EventBrite ONLY

$20 UnRegistered
Max Attendance: 32
---
2. Location
[ZebbieLAN] now takes place in Building 1432 (Near the Radio Station Building) on the Bathurst Campus of Charles Sturt Universirt. Location & Routes provided on the Map below.
Parking is not adequate at this location, so we ask that people use the Loading Zone marked to unpack/pack their vehicles before properly parking in a designated zone. The Map below highlights the closest viable parking bays to the Building.
Please note that there may be ongoing roadwork along Research Station Drive. It is therefore advised that people use the main entrance of CSU to travel to & from the venue.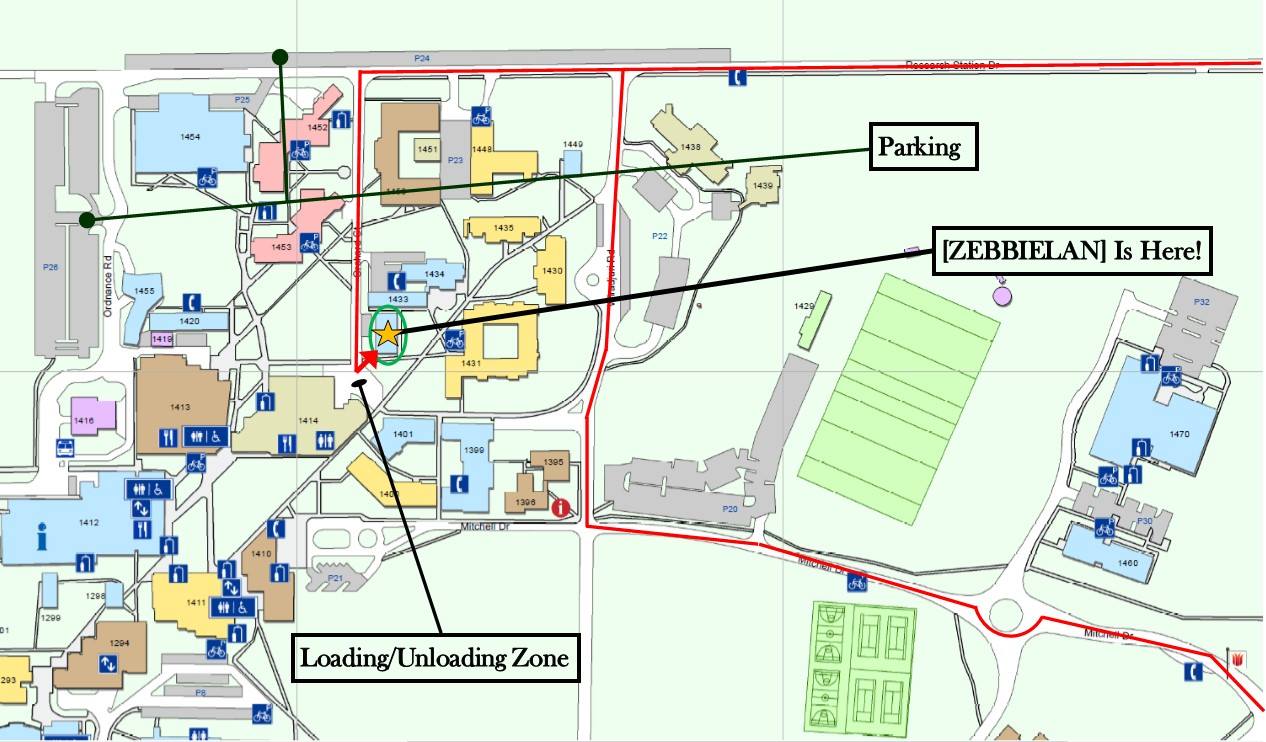 ---
3. Restrictions
List of DO's and DO NOT's for the Event:
- DO Bring Headphones, as Speakers are not Permitted
- DO Bring Powerboards, This frees up Official Powerboards for more Users
- DO Respect other people's computers and any Hardware that is in the room. Computers and Servers are expensive. Also no throwing of any Console Controllers.
- DO NOT Bring Multiple Monitors, we don't have the Table Space for them.
- DO NOT bring/view Pornographic Material, this is an All-Ages Event
- DO NOT Torrent or have Torrenting Software Open, CSU monitors Internet Usage and would be able to see if any Torrents are running.
- DO NOT Bring Alcohol, this is an All-Ages Event.
- DO NOT Engage in any unsocial or violent behavior, this will result in your removal from the event, and subsequent events.
---
4. Room Upkeep
We ask that you Please try to keep the Room Tidy, at the end of the event the room must be ready for any CSU Activities on Monday, the clean up Process is greatly helped if the room is kept clean.
We also ask that Noise is not excessive, so as not to disturb anyone working in surrounding Buildings.

---
5. Security/Toilets
The nearest Toilets are located in an adjacent building to the one where we are located. We will ensure that there is access to this facility, as well as providing directions to any who require it.

---
6. Ye Olde LAN Shoppe

Ye Olde LAN Shoppe returns with more snacks and drinks for Purchase. Make sure to bring change in order to purchase the fine selection of edible stuff. Prices will be displayed at the Event.
Prices will be Listed on the Day. Cash Only (we're not that gifted, if you need Cash there are ATM's on the Uni Campus).
---
7. Tournaments

This time we are looking at having a simple relaxing LAN to end the year with.

We have decided not to hold a Tournament but have a couple of Big Games, where everyone can enjoy and play what they like.
---
8. Prizes

Prize Information will be announced Closer to the Event

---
9. Photography

We will have some people taking photos on the Day, in order to promote the event and celebrate the achievements that are made. If you feel in any way uncomfortable with being photographed, please let the people with cameras know, and they will respect your decision.
---
---
FAQs
Are there ID requirements or an age limit to enter the event?
This is an All Ages Event. You Are required to Register at the Door but there are no restrictions
What are my parking options getting to the event?
Parking Zones as well as Loading/Unloading Areas have been highlighted on the Map above in Section 2

What can/can't I bring to the event?
This has been outlined by Section 3 Above

Where can I contact the organiser with any questions?
If you have any Questions, Issues, Suggestions, etc. Please Contact the [ZebbieLAN] Admins via either the Steam Group Page http://steamcommunity.com/groups/zebbielan or the Facebook Page https://www.facebook.com/zebbielan/