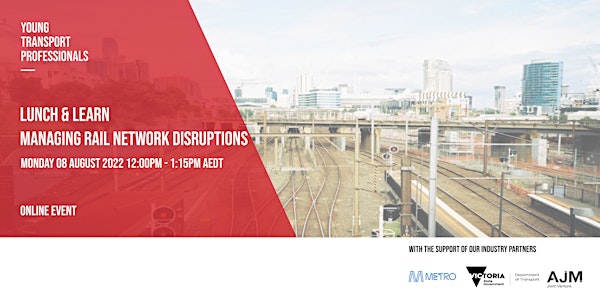 YTP Managing Railway Network Disruptions Part 1 of 2 - Lunch and Learn
Managing Railway Network Disruptions Part 1 of 2 - Lunch and Learn. Please join us for this virtual presentation you do not want to miss.
About this event
Young Transport Professionals are excited to partner with Metro Trains Melbourne to present a two-part series on the Metro Control Centre.
How many trespassers enter the rail corridor per week? How many trains are disrupted on the Metropolitan Rail Network per day? Who manages these disruptions?
The Metro Control Centre is the central nervous system of the Metropolitan Rail Network. It is responsible for the day-to-day operations of train movements, passenger flow and resolving network disruptions anywhere across the metropolitan rail network.
Please join us at 12:00 PM for what will be an insightful and interesting presentation to uncover the mostly invisible operations of the Metro Control Centre via the link below.
LIVE EVENT LINK: Join the live event
The information presented in this session will be vital for Part 2 of Managing Railway Network Disruptions.
The presenters from Metro Trains Melbourne include:
Kuldip Johal, Head of Metrol
Claudia Gemes, Signallers Manager
Travis Fitzpatrick, Network Operations Manager Signallers
Catherine Baxter, Chief Operating Officer
We're committed to connecting young people in transport. Our events are free - register your attendance now!