YTM Networking With A Twist- ONLINE EVENT-INSIGHT:Connect with Confidence
Description
Are you bored with business networking events that provide little else than shaking hands and exchanging business cards?
You know that there has to be a better way!
If you were to plan and prepare better, you would find that networking can connect you with opportunities through deeper conversations as you make connections learn from the knowledge and experience of others.
Networking is a critical tool for your business. But sometimes, you may be too far from the events you would like to attend, or the time of day may not suit, or perhaps you would just rather stay home and have the people come to you? By learning to have better and deeper conversations, no matter where you are, you can make the most of the connections you already have to move your business forward.
Join Kerryn Powell, Founder of YTM Networking with a Twist for a 1 hour online business networking event via ZOOM. Ask Kerryn those networking questions that stump you and learn from her experience. She knows that Networking face to face can be daunting, but by knowing how to plan, prepare and follow up you will find that networking face to face, wherever you are can be both profitable and enriching.
In this session, you will
· Learn important networking tips to help grow your business and your confidence
· Answer questions that help you not only share your expertise, but gain clarity on why you are in business and how you can help others
· Make connections and enjoy the conversation and connection
· Ask questions of the group to extend your thinking and explore ideas.
Kerryn has helped hundreds and hundreds of business owners and professionals over the past eight years to find the suppliers, referrers, clients and friends that they need to move their business forward.
No matter where you are on your networking journey, learning to listen to others and also clearly articulate your value, are important skills to develop and extend.

This Inaugural event is limited to a group of 10 so you can get the most from the time you are investing... INTRODUCTORY COST- $45.00 pp
You will receive link to the Virtual Networking event via email.
YTM Networking with a Twist, actively engages you in conversations that boost your confidence, provide opportunity to share your expertise and learn about and from others. It is a networking event, like none other.
Why is it called 'Networking With A Twist'?
We call it, 'With A Twist' because it's different to what you're used to. Our events aren't just about shaking hands and exchanging business cards. We find out about you and your networking goals. Our unique conversation cards help to explore, and explain your business, and listen to other business owners do the same. You'll find that asking and answering questions helps to generate thought-provoking conversations that feel natural from the start, and will continue after the event.
As business owners ourselves, we know that time is a scarce and non-renewable resource. That's why we've designed a different type of networking event that delivers maximum value, in minimum time, with personal, as well as professional rewards.
"
Your Time Matters is dedicated to helping individuals, business owners, and corporations develop the networking skills and business knowledge they need to accelerate their growth and achieve their goals, making businesses bigger and better.
Video link: http://www.vimeo.com/84254737
"Your Time Matters' events are about connecting, engaging, building relationships and seeking opportunities to grow yourself and your business… Not selling!"
NON - REFUNDABLE OR TRANSFERABLE
LIMITED SPOTS-
BOOKINGS ESSENTIAL AND CLOSE 24 HOURS PRIOR


Terms and Conditions Apply. See website.
What some of our past participants say:
"Wonderful. Met relevant business contacts. Following up with at least three. I have attended networking groups for years, yours was the first group to give real contacts and with you knowing and making introductions was great". F. Pappa
"YTM events always run like clockwork. I have found them to be extremely beneficial.
I have made some amazing connections, not only for people who have booked me in for my organising services, but also for meeting some fantastic and professional people to affiliate my business with, and have even made some good friends. Highly recommend!" Sue Glasser - Paperclip Professional Organisers
"Fantastic night. Great bunch of people, and a bit of fun too" Stephen Read, Stephen Read Landscape Design
"I enjoyed my interaction and participation in these activities, as they were always very well run and organised. I met open-minded people who came to the functions with the same view, to meet other like-minded people and develop a solid business relationship. What else would you want from a networking event?", Ronen Atzmon, Atzmon & co, Solicitors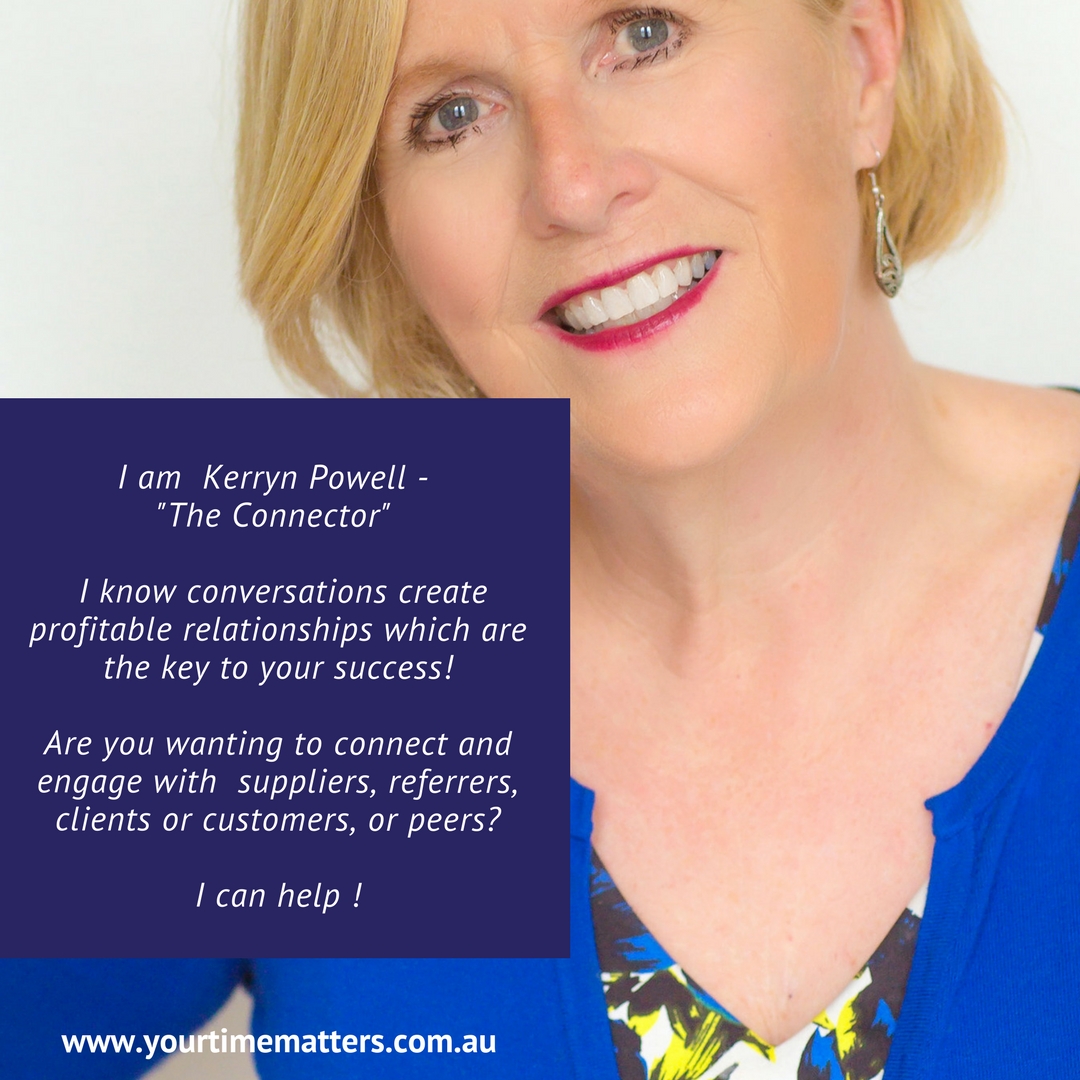 A note from our organiser, Kerryn Powell

"Having attended numerous networking events, I have found that the events I enjoyed the most, have been where I come away feeling I have learnt something, connected with like-minded people, and felt I have not wasted my time. This is an opportunity for all business owners, both men, and women.
There is so much knowledge and experience to share!
With our events, it does not matter if you know very few people, or are new to networking, or find it overwhelming, as with the format we have created, it is easy to have a good conversation, where everyone is involved and makes new connections.
Our events run throughout the year, we look forward to connecting more business owners and helping them find the opportunities that will assist them to achieve their desired outcomes. Our events are not only insightful but fun!
YTM supports the not-for-profit organisation, Fitted For Work, who have assisted 24,000 disadvantaged women, in seeking employment over the past 5 years.
I look forward to meeting you, remember to come prepared with lots of business cards!
Please do not hesitate to contact me, if you have any questions
Kerryn Powell
0414 856 616
contact@yourtimematters.com.au
Thank you to our 2018 Sponsors