YTM Networking With A Twist-INSIGHT:"How your digital filing system can sa...
Description
Are you bored with business networking events that provide little else than shaking hands and exchanging business cards?
You know that there has to be a better way!
YTM Networking with a Twist connects you with opportunities, deeper conversations, strategic connections and valuable insights to grow your business and helps you get maximum mileage out of your Business Networking Investment.
You benefit from -
a warm, friendly, and supportive environment at YTM
a combination of open networking
strategic introductions
and an expert speaker with ideas and practical tips on a relevant business issue
an networking experience that has you leaves feeling enriched, personally and professionally ..and motivated to make some changes in your business to grow.
In addition to ample opportunity for conversation during open networking and table conversations, this month our valuable insight is:
"How your digital filing system can save you time, money and stress!".
Guest Speaker: Lynette Delane, Kits And Bits
In this digital age, as we move toward a paperless environment, the majority of our documentation is stored on our computer or server but we don't always take the same care as we did with paper files.
Setting up an efficient electronic filing system that reduces filing time, is easy to maintain and makes document retrieval seamless is essential for office productivity.
Lynette Delane from Kits and Bits will walk you through how you can set up and clean up your digital filing so you can always find what you need.
Not sure if you want the specific topics or not
To Keep or not to keep
Folder Structures
File naming
Managing multiple versions
Managing downloaded files
Removing duplication
Browsing vs Searching
Our Speaker - Lynette Delane, Kits And Bits

Lynette tells me, she didn't start out as a techie. She grew up in the Western Australian wheatbelt town of Koordaand both of my parents were heavily involved in the community.
Getting stuff done and trying to find better ways to do things is important when resources are thin on the ground.
Before founding Kits & Bits, she specialised in software projects and business process documentation for both small businesses and large organisations such as Curtin University and BHP Billiton Iron Ore.
Throughout her career, she often found herself scratching her head and thinking 'there must be a better way to do this!'
As a systems trainer, she wants to save small business owners time and money in their business, every day, so that they can find that elusive "spare" time and use it to do what they love.
Nobody at the end of life, wishes they'd spent more time at work!
Part 2 of YTM Networking with a Twist, actively engages you in conversations that boost your confidence, provide opportunity to share your expertise and learn about and from others. It is a networking event, like none other.
Why is it called 'Networking With A Twist'?
We call it, 'With A Twist' because it's different to what you're used to. Our events aren't just about shaking hands and exchanging business cards. We find out about you and your networking goals. So, from the moment you arrive, you'll be welcomed and introduced to relevant and related people. Our unique conversation cards help to explore, and explain your business, and listen to other business owners do the same. You'll find that asking and answering questions helps to generate thought-provoking conversations that feel natural from the start, and will continue after the event.
As business owners ourselves, we know that time is a scarce and non-renewable resource. That's why we've designed a different type of networking event that delivers maximum value, in minimum time, with personal, as well as professional rewards.
"
Your Time Matters is dedicated to helping individuals, business owners, and corporations develop the networking skills and business knowledge they need to accelerate their growth and achieve their goals, making businesses bigger and better.
Video link: http://www.vimeo.com/84254737
FAQ
What Happens at a 'Networking With A Twist' Event?
• 2 1/2 hours of open networking and matched conversations giving you plenty of time to talk and listen to others
• 2 x tables of 6-8 strategically matched, like-minded business owners to have timed discussions with (so no one monopolises the conversation)
• YTM's UNIQUE Conversation Starter cards to create meaningful discussions (great for improving conversation skills)
• You learn more about yourself and your business as well as about others
• An informative and relevant speaker to provide ideas and guidance for your business
What's included?
There is always some refreshments. Perhaps a delicious shared cheese platter, or a variety of dips, or similar. You are able to purchase your own drinks at bar prices, this keeps the ticket price down.
The valuable insight.
The strategic matching for conversations to meet your needs or with people who share similar customers and may have connections for you or opportunity to collaborate.
Why are Bookings Essential and Close 24 Hours Prior to Event?
Because we take time to strategically match you with other guests at tables, and line up suitable introductions for you when you arrive.
"Your Time Matters' events are about connecting, engaging, building relationships and seeking opportunities to grow yourself and your business… Not selling!"
NON - REFUNDABLE OR TRANSFERABLE
LIMITED SEATING -
BOOKINGS ESSENTIAL AND CLOSE 24 HOURS PRIOR


Terms and Conditions Apply. See website.
What some of our past participants say:
"Wonderful. Met relevant business contacts. Following up with at least three. I have attended networking groups for years, yours was the first group to give real contacts and with you knowing and making introductions was great". F. Pappa
"YTM events always run like clockwork. I have found them to be extremely beneficial.
I have made some amazing connections, not only for people who have booked me in for my organising services, but also for meeting some fantastic and professional people to affiliate my business with, and have even made some good friends. Highly recommend!" Sue Glasser - Paperclip Professional Organisers
"Fantastic night. Great bunch of people, and a bit of fun too" Stephen Read, Stephen Read Landscape Design
"I enjoyed my interaction and participation in these activities, as they were always very well run and organised. I met open-minded people who came to the functions with the same view, to meet other like-minded people and develop a solid business relationship. What else would you want from a networking event?", Ronen Atzmon, Atzmon & co, Solicitors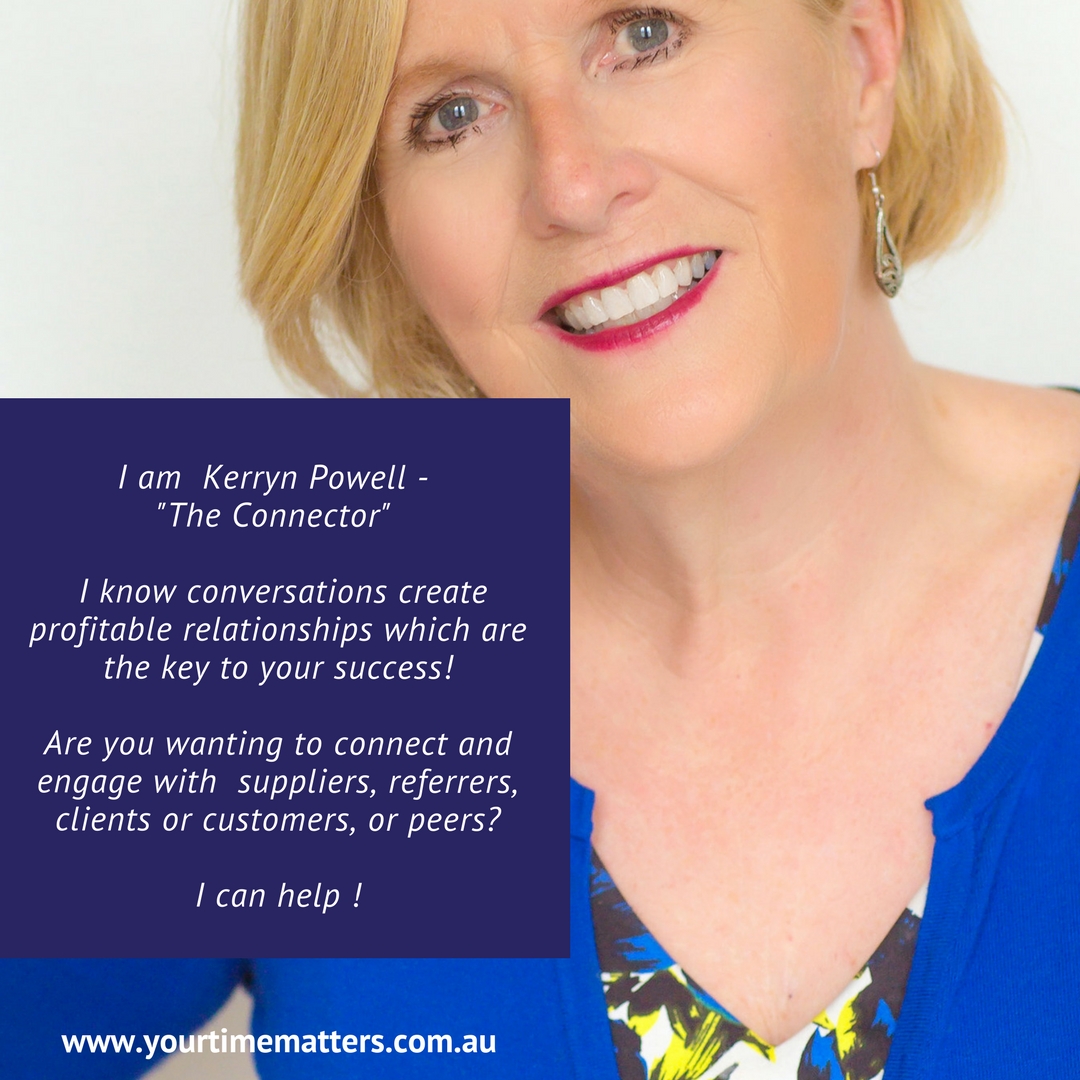 A note from our organiser, Kerryn Powell

"Having attended numerous networking events, I have found that the events I enjoyed the most, have been where I come away feeling I have learnt something, connected with like-minded people, and felt I have not wasted my time. This is an opportunity for all business owners, both men, and women.
There is so much knowledge and experience to share!
With our events, it does not matter if you know very few people, or are new to networking, or find it overwhelming, as with the format we have created, it is easy to have a good conversation, where everyone is involved and makes new connections.
Our events run throughout the year, we look forward to connecting more business owners and helping them find the opportunities that will assist them to achieve their desired outcomes. Our events are not only insightful but fun!
YTM supports the not-for-profit organisation, Fitted For Work, who have assisted 24,000 disadvantaged women, in seeking employment over the past 5 years.
I look forward to meeting you, remember to come prepared with lots of business cards!
Please do not hesitate to contact me, if you have any questions
Kerryn Powell
0414 856 616
contact@yourtimematters.com.au
Thank you to our 2018 Sponsors