Description
Learn! Grow! Achieve!
Unique networking events that combine networking with learning and discussion - see our video HERE
"They say that when people stop learning, they stop living. I'd certainly agree with that. And I'd definitely say that the business owner who stops deliberately seeking out new ideas and opportunities to discuss them is probably presiding over a struggling or dying business."
Leigh Powell, Your Time Matters
Since we're passionate about business growth, we are strong believers in the importance of exposing ourselves and our community to experts in various aspects of business and giving them opportunities to learn from them and discuss the ideas they present in small groups.
At Learn! Grow! Achieve! events small group discussion focuses on the knowledge and information shared by our speaker. Attendees have a chance to ask questions, raise issues and discuss challenges related to the topic in a small group of like-minded business people from many different industries and levels of experience.
This month our topic for discussion and featured speaker is:
Guest Speaker: Michael Spiegel, Regional Community Manager I Melbourne Central
Topic: How Could YOU Transform Your Business?
What lessons can we take away from one of the largest social enterprises in the world?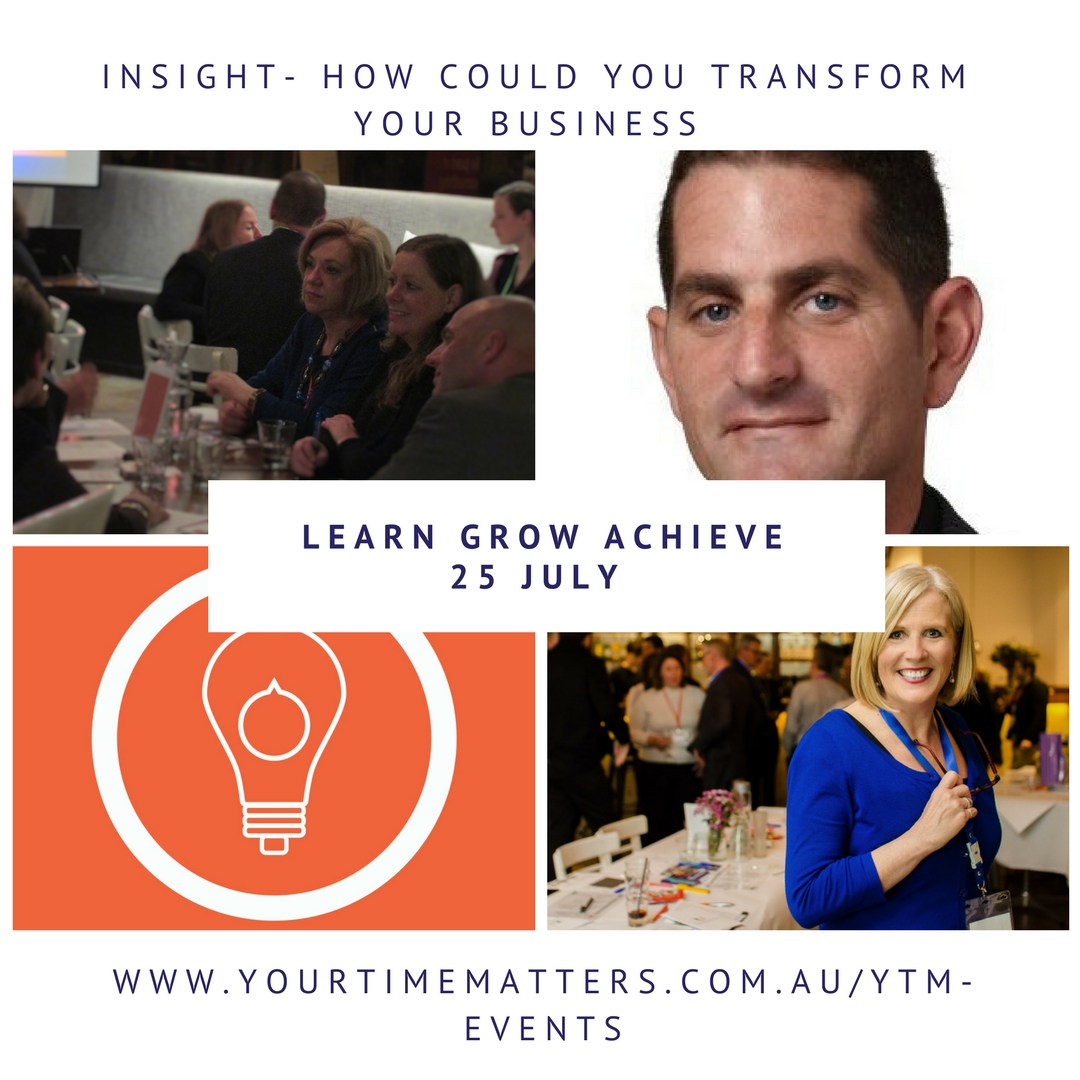 The 150+ years of history of Bendigo Bank is one of the most unique stories in corporate Australia, having transformed its business model into one of the largest social enterprises in the world.
With more than 500 branches, Bendigo Bank is Australia's fifth largest bank. A top 60 ASX listed company with a market cap of over $5B, they strive to be Australia's most customer connected bank. Their unique business model has developed from a sound understanding of the most pressing issues in Australian communities - from remote country towns to bustling cities and suburbs.
Commitment to the success of their customers and communities has translated into an investment of $165 million for local projects, local clubs, and local schools and is delivered through 1.8 million customers, 1,900 Community Bank Directors, 90,000 Community Bank shareholders, and 6,500 staff.
How did they become one of the most diverse and connected organisations in the country?
From country building society, to Community Bank model, to Australia's fifth largest bank - how did they adapt?
How could you transform your business model to grow?
How do you show commitment to your clients and customers?
Our speaker, Michael Spiegel is Regional Community Manager for the Melbourne Central region for Bendigo Bank, will discuss Bendigo Bank's journey.
He himself, has transformed his career over time.

With a diverse international background in innovation management and finance, Michael has consulted for major global companies in the pharmaceutical, biotech and engineering space. He has extensive experience in strategy, finance, business development, stakeholder management and strategic change initiatives and has presented to international audiences on almost every continent.
Michael has always held a strong belief in community strengthening and social justice and spent many years in international community development, human rights and youth engagement.

He holds a Bachelor of Arts from the University of California Santa Cruz, a Master of Science from the University of London, an MBA from Monash University and a Diploma of Finance.
The topic of conversation in your discussion group will look at how transformation can affect your industry or business. You are welcome to bring any questions or challenges you have in this area along and raise them in your group, although, as always, our goal is to make sure that everyone gets a chance to participate in the conversation.You can expect to leave having made valuable connections, deepened relationships with people you already know, and with some ideas to follow-up and implement in your business.
How Are Learn! Grow! Achieve! Events Structured?
The topics and speakers are carefully selected. Our goal is to progressively cover a broad range of topics that are relevant to the current business environment. We choose dynamic, engaging speakers who are experts in the fields of business growth, administration, marketing, technology, customer service, productivity, and more.
These unique events are like a Mastermind Group without the ongoing commitment and investment. They expose you to new ideas and opportunities and the group discussions will open new ways of looking at old problems.
"Wonderful. Met relevant business contacts. Following up with at least three. I have attended networking groups for years…yours was the first group to give real contacts and with you knowing and making introductions was great". F. Pappa, August, 2016

"Your Time Matters' events are about connecting, engaging, building relationships and seeking opportunities to grow yourself and your business… Not selling!"
Bookings are Essential and Close 24 Hours Prior to Event!
Why? - Because we take time to strategically match you with other guests for discussion groups and line up suitable introductions for when you arrive.
CHECK OUT ALL EVENTS WE ORGANISE HERE
What People Say About YTM Learn! Grow! Achieve! Events: -
"I joined YTM networking three years ago with the goal of meeting liked minded business people, connect and network and by so doing grow my business. Like any networking activity, it takes time and effort before you can see results. Well, time and effort paid off as I have made numerous connections through the YTM networking events, established solid relationships and received a number of quality referrals which translated to closed business and further assist in the development and maintenance of the relationship. YTM events have my full endorsement."
Ronen Atzmon, Atzmon & Co, Solicitors, May, 2014
"YTM events always run like clockwork. I have found them to be extremely beneficial… I have made some amazing connections not only with people who have booked in for my organising services, but also with some fantastic and professional people to affiliate my business with. I've even made some good friends. Highly recommended!"
Sue Glasser - Paperclip Professional Organisers
LIMITED SEATING -
BOOKINGS ESSENTIAL AND CLOSE 24 HOURS PRIOR

NON-REFUNDABLE OR TRANSFERABLE
YTM Business Networking Event Terms and conditions

Your Time Matters ABN 83 475 859964 of PO Box 3055, DENDY Vic 3186 (

YTM

) is the organiser of business networking with a twist events and YTM Workshop and Seminars (

YTM Business Networking Events

). By clicking the ok button, or settling this invoice, you agree to these terms and conditions;

You have completed a registration form to either participate in a one off YTM Business Networking Event or to become a subscriber to a number of YTM Business Networking Events, or are participating in a workshop or seminar arranged by YTM;

You authorise us to rely on the information you supplied;

We will retain the information you provided us and will protect it from unauthorised use. We will only use this information to communicate with you about additional events of YTM;

Payment to a YTM event is not refundable, unless otherwise stated;

Notwithstanding that you may be a subscriber to a series of YTM Business Networking Events, you must register for each event to enable us to correctly record participation number and for catering purposes;

If you do not register, you may be prevented from attending the event;

If you are a subscriber to a series of YTM Business Networking Events, YTM will issue you with a promotional code. You must keep the code confidential and use it to register for each event you wish to participate in;

YTM reserves the right to cancel a YTM Business Networking Event or to change the event format and or location to best suit the needs of the group. If the scheduled and paid for YTM Business Networking Event is cancelled and or changed to a location you cannot attend, YTM will provide you with a full refund or credit of your registration costs for that event; on occasions an extra payment may be necessary for a SPECIAL, rather than standard event.

Whilst YTM will use best endeavours to connect you to compatible businesses at the YTM Business Networking Event, YTM does not warrant or represent that there will be a compatible match or that the networking is guaranteed to generate business. YTM will endeavour to ensure that liked minded businesses will participate in the networking activities.

Gold subscribers for the YTM Business Networking Events can substitute up to 3 times in a calendar year (i.e. send a colleague in their place provided YTM is fully aware of your decision to send a substitute)
"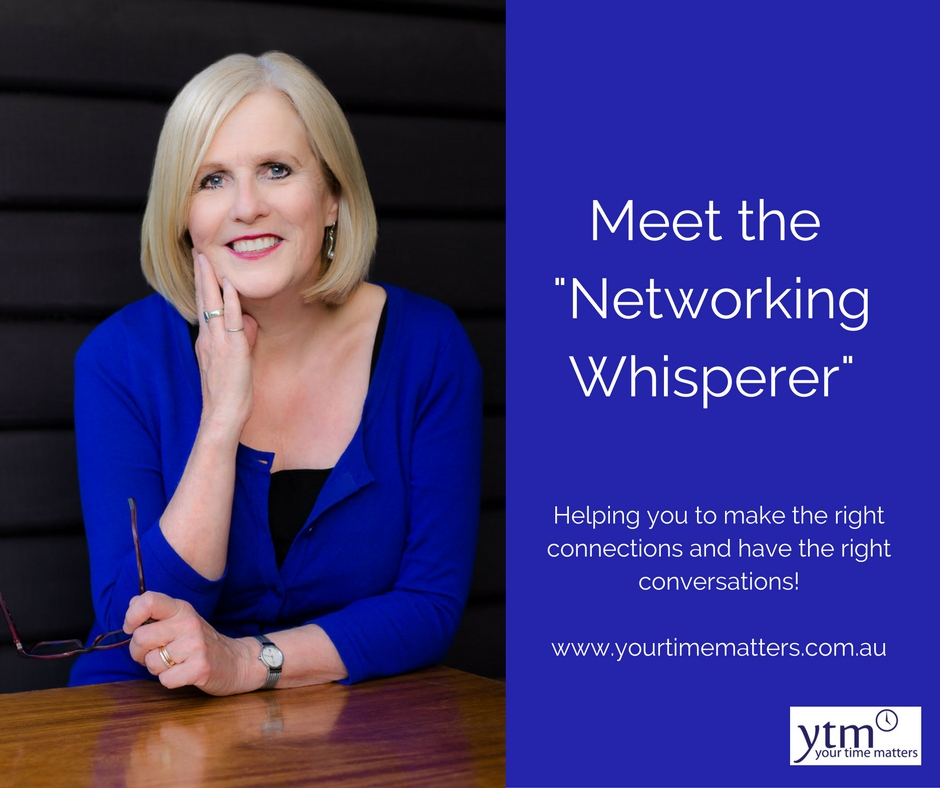 A note from the organiser, Kerryn Powell....
"Having attended numerous networking events, I have found that the events I enjoyed the most have been where I come away feeling I have learnt something, connected with like-minded people and felt I have not wasted my time. This is an opportunity for all business owners (both men and women).
There is so much knowledge and experience to share!
With our events, it does not matter if you know very few people, or are new to networking, or find it overwhelming as with the format we have created, and it is easy to have a good conversation where everyone is involved and makes new connections.
Our events ran throughout the year, and we look forward to connecting more business owners and helping them find the opportunities that will assist them to achieve their desired outcomes. Our events are not only insightful, but fun!
YTM supports the not -for - profit organisation -Fitted For Work, who have assisted 24000 disadvantaged women in seeking employment over the past 5 years.
Look forward to meeting you...remember to come prepared with lots of business cards!
Please do not hesitate to contact me, if you have any questions
Kerryn Powell
0414 856 616
contact@yourtimematters.com.au
YTM Networking with a twist!
Connect with multiple businesses at the one time, in the one place!
Limited places. Book now!
Video link: http://www.vimeo.com/84254737
Please note: Bookings close 48 hours prior. No Door sales due to the structured nature of the event. Tickets are non-refundable.