Description
Tired of wasting hours networking and not making useful connections or having the right conversations?


Are you looking for effective, professional, structured networking with men and women?


Would you like to spend your time engaged in profitable and fun networking?


At YTM events, you will participate in a networking session where you connect with multiple business owners as you -
Learn - Leverage a better understanding of key business fundamentals & trends

Grow - Extend your network reach, your confidence and voice and increase your conversion

Achieve - Interact with likeminded positive people who want to collaborate, affiliate and share knowledge and experiences
At YTM, we focus on creating relationships through effective conversations. We make sure you talk with multiple people and at this SPECIAL event you will also enjoy a 2-course dinner and engage in our unique format to get the conversation started. .
TOPIC-
Followed by: Tailored networking session over dinner
Dinner at a table for 6-8 - "matched" connections
You will sit at tables of 6-8 and each person will present to the table as a whole as you enjoy a meal and then progress to a new group. You pay for your own drinks. There will be plenty of time to catch up on existing relationships and lay foundations for new ones.
This event will run until 9.00pm.
So, if you want to generate more business and build a network that will support you. ....BOOK TODAY!
Take a look at how YTM events operate-
https://www.youtube.com/channel/UCN-jn_vVOlXxuTEhHPyOjfQ
Don't miss out. Strictly limited seating.
Non-refundable. Non-transferable.
What some of our past participants say-
"The networking was brilliant- not only the idea but the tips and how to approach it with no 'sales pitch' or 'elevator pitch' was very refreshing".M.Dulberg, WebbyWeb Designs, 2016
"Wonderful. Met relevant business contacts. Following up with at least three. I have attended networking groups for years…yours was the first group to give real contacts and with you knowing and making introductions was great". F. Pappa, August, 2016
" I had a great night last night, so well organised…." Andy Fothergill, Home to Garden Plumbing, Feb 2014
" YTM events always run like clockwork. I have found them to be extremely beneficial.
I have made some amazing connections not only for people who have booked me in for my organising services but also for meeting some fantastic and professional people to affiliate my business with and even made some good friends.. Highly recommend! "
Sue Glasser - Paperclip Professional Organisers
"Fantastic night. Great bunch of people and a bit of fun, too" Stephen Read, Stephen Read Landscape Design, May, 2014
"I enjoyed my interaction and participation in these activities as they were always very well run and organised. I met open minded people who all came to the functions with the same view – to meet other like-minded people and develop a solid business relationship. What else would you want from a networking event?", Ronen Atzmon, Atzmon & co, Solicitors, May, 2014
Please note: Bookings close 24 hours prior to the event. No Door sales due to the structured nature of the event. We really consider who is in the room and who should be connected, due to the time involved, tickets are non-refundable.
Limited places. Book now!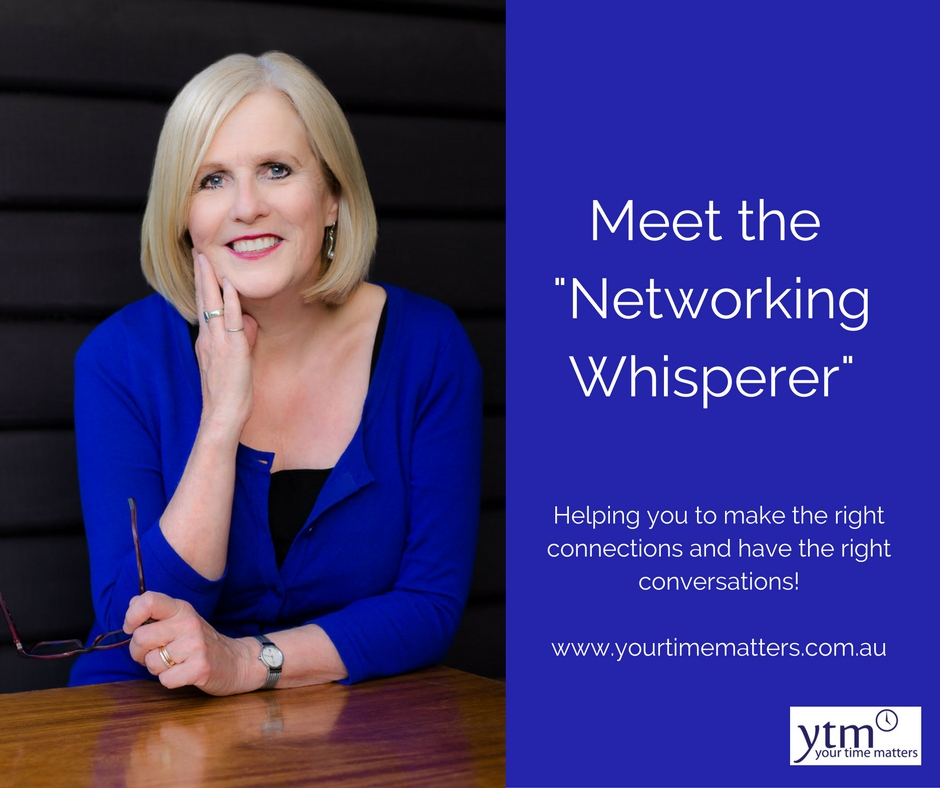 A note from the organiser, Kerryn Powell....
"Having attended numerous networking events, I have found that the events I enjoyed the most have been where I come away feeling I have learnt something, connected with like-minded people and felt I have not wasted my time. This is an opportunity for all business owners (both men and women).
There is so much knowledge and experience to share!
With our events, it does not matter if you know very few people, or are new to networking, or find it overwhelming as with the format we have created, and it is easy to have a good conversation where everyone is involved and makes new connections.
Our events ran throughout the year, and we look forward to connecting more business owners and helping them find the opportunities that will assist them to achieve their desired outcomes. Our events are not only insightful, but fun!
YTM supports the not -for - profit organisation -Fitted For Work, who have assisted 24000 disadvantaged women in seeking employment over the past 5 years.
Look forward to meeting you...remember to come prepared with lots of business cards!
Please do not hesitate to contact me, if you have any questions
Kerryn Powell
0414 856 616
contact@yourtimematters.com.au
YTM Networking with a twist!
Connect with multiple businesses at the one time, in the one place!
Limited places. Book now!
Video link: http://www.vimeo.com/84254737
Please note: Bookings close 48 hours prior. No Door sales due to the structured nature of the event. Tickets are non-refundable.