Description
Please note: Bookings close on 23rd November..... No Door sales due to the structured nature of the event. Tickets are non-refundable.
Progressive Dinner Networking Event - help you to create business relationships over dinner
BONUS INSIGHT - "Problems vs. Opportunities"
Sharing a meal together. Extending hospitality… In many cultures, these are expressions of trust and a commitment to amnesty and good faith. For most of us, meals are times for conversation and relationship building. So, our progressive dinners build on these characteristics because they express our belief that networking is about building relationships, not about sales.
Tonight's insight will focus on how four very different business owners have faced into problems in growing their businesses and have found ways to turn situations into opportunities along their individual journey.
Hear from
Eric Chan- The Pitch Specialist - Eric has built his brand by guiding professionals on how to capture attention by delivering their key message with precision, clarity and impact. He is also the founder of the Soapbox Revival movement, taking groups of people out into public to spread messages of joy, inspiration and growth.
Many budding entrepreneurs can relate to the self doubt that plagues the newcomer to an industry. "Why would anyone pick me over someone already well known? Even I look up to and aspire to be these people!"
Eric asked these questions of himself a year into his entrepreneurship and decided to take a leap of faith, making two key decisions which changed the trajectory of his success.
Jane Seymour- Mount Zero Olives. As a primary producer of olives and olive oil and a co-founder of Mount Zero Olives, an award winning iconic Australian brand.
Jane started with a neglected olive grove and over many seasons learnt to rejuvenate the trees using Biodynamic farming methods to focus on the health of the trees and the soil. Her business was inducted into the Melbourne Food and Wine Hall as food legends in 2010 for their contributions to Melbourne's food culture.
For the last several years Jane's challenge has been to incorporate the health giving properties of our Mount Zero certified biodynamic olive oil into natural skincare products.
Andre Baruch- Past Owner of Australia Wide Chaffeur Cars. Born in New Zealand, André completed school in Lower Hutt and then spent a year studying at the Institute for Youth Leaders from Abroad in Jerusalem, Israel. Returning to Sydney André completed his university education at the University of New South Wales, while also working for Coopers and Lybrand.
Upon completion of his studies André moved to Melbourne and worked in his wife's family business of property development and management for 8 years. After doing similar for 2 years on his own André was at a loss as to which way to go next. He decided to go back into driving taxis – after doing it part time as a job during a university break – and from their an opportunity arose to enter the Hire Car Industry. After 12 years owning, growing and running his business, André took the opportunity offered to exit via a trade sale.
The achievement that André is the most proud of his is raising, together with his wife Lisa, their four beautiful sons; now aged 15 – 22.
Michelle Jelleff, Founding Director of START Foundation. As a Founding Director of START Foundation, Michelle is making a difference by engaging with our community and empowering amputees by providing grants to enable them to participate in their chosen sport in order to achieve their sporting dreams.

To achieve our goals, they are constantly seeking partnerships with Australian organisations who share our values. START Foundation recognises the key benefits for amputees participating in sport. Michelle kick started the presentations for the year at YTM year and it will be interesting to hear how they have progressed in their mission over 2017.
PLUS- Your Time Matters' Progressive Dinners provide:
An opportunity to eat and enjoy relaxed, meaningful conversation with matched business people.

Introductions to other guests with whom you have common interests.
Structured conversations using special YTM Conversation Card decks that help you to give and receive value.
Opportunities for casual conversation with like-minded people.
Enjoyable, yet efficient networking opportunities and excellent speakers.
Leigh Powell, Business Strategist and Mentor, will help tease out some of the issues and ideas you have around your business in a likeminded group of business owners who offer up and share thoughts on your Proposition, how to find target markets, the collateral and evidence you have to demonstrate you can solve a client's problem and more.
Kerryn Powell, known as "The Connector" and a network strategist, helps individuals, business professionals and organisations build real networks. Her ability to seek out solutions for any problem has developed through her career portfolio where she has also built a diverse network. Kerryn has also solved awkward networking conversations by creating the YTM unique conversation-starters which lead to participants sharing experiences, challenging and endorsing ideas, learning new things and creating exciting new synergies and opportunities as they boost their confidence and business.
LIMITED SEATING - BOOKINGS ESSENTIAL AND CLOSE 23 November . STRICTLY LIMITED SEATING.
--------------------------
Tuesday 28th November, 2017 5.30pm-9.000pm
The Deck, 212 Bay Street, Brighton
"YTM events always run like clockwork. I have found them to be extremely beneficial… I have made some amazing connections not only with people who have booked in for my organising services, but also with some fantastic and professional people to affiliate my business with. I've even made some good friends. Highly recommended!"
Sue Glasser - PaperClip Professional Organisers
"Wonderful. Met relevant business contacts. Following up with at least three. I have attended networking groups for years…yours was the first group to give real contacts and with you knowing and making introductions was great".
F. Pappa, August 2016
"I had a great night last night, so well organised…."
Andy Fothergill, Home to Garden Plumbing, Feb 2014
"Fantastic night. Great bunch of people and a bit of fun, too. One of the most valuable networking events I've attended."
Stephen Read, Stephen Read Landscape Design, May 2014
"Thanks to the effective format, I have made business connections quicker and deeper than at any other events, and established an ongoing relationship with an ideal client. It's not only the 'speed' format, it's the organisation around it and the way it is set up to facilitate meaningful conversations. Kerryn is a great facilitator who takes a lot of care in organising her events, from the room set up to the fascinating keynote speakers. You are sure to learn something."
Natalie Giventi, Unlimited Mindset Solutions
"Kerryn's YTM events are a saving grace, especially if, like me, you are new to networking. When I first entered the room I felt very nervous, but Kerryn came over and quickly put me to ease while introducing me to some key individuals. I never looked back. Kerryn's passion to connect and engage business owners through well organised events is evident by her repeat customers. She is always happy to share her knowledge and (it seems) effortlessly connect you with just the people you hope to meet. I urge you to go to an event, they are fun, enlightening and you may even learn a more about yourself!"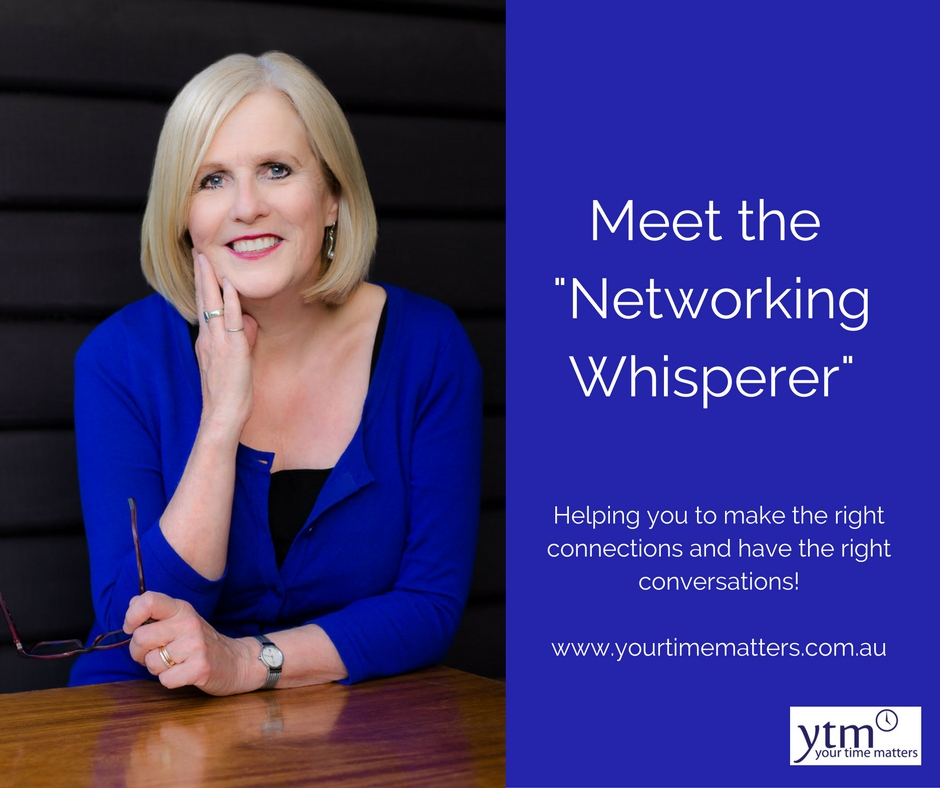 A note from the organiser, Kerryn Powell....
"Having attended numerous networking events, I have found that the events I enjoyed the most have been where I come away feeling I have learnt something, connected with like-minded people and felt I have not wasted my time. This is an opportunity for all business owners (both men and women).
There is so much knowledge and experience to share!
With our events, it does not matter if you know very few people, or are new to networking, or find it overwhelming as with the format we have created, and it is easy to have a good conversation where everyone is involved and makes new connections.
Our events ran throughout the year, and we look forward to connecting more business owners and helping them find the opportunities that will assist them to achieve their desired outcomes. Our events are not only insightful, but fun!
YTM supports the not -for - profit organisation -Fitted For Work, who have assisted 24000 disadvantaged women in seeking employment over the past 5 years.
Look forward to meeting you...remember to come prepared with lots of business cards!
Please do not hesitate to contact me, if you have any questions
Kerryn Powell
0414 856 616
contact@yourtimematters.com.au
YTM Networking with a twist!
Connect with multiple businesses at the one time, in the one place!
Limited places. Book now!
Video link:http://www.vimeo.com/84254737
Please note: Bookings close on 23rd November..... No Door sales due to the structured nature of the event. Tickets are non-refundable.