YOW! Night Melbourne - Simon Brown - August 3

Monday, 3 August 2015 from 5:30 pm to 8:30 pm (AEST)
Event Details
 YOW! Night August 
Join international speaker Simon Brown as he delivers 
his latest talk "Software Architecture as Code"
Software architecture as code
Over the past few years, I've been distilling software architecture down to its essence, helping organisations adopt a lightweight style of software architecture that complements agile approaches. This includes doing "just enough" up front design to understand the significant structural elements of the software, some lightweight sketches to communicate that vision to the team, identifying the highest priority risks and mitigating them with concrete experiments. Software architecture is inherently about technical leadership, stacking the odds of success in your favour and ensuring that everybody is heading in the same direction.
But it's 2015 and, with so much technology at our disposal, we're still manually drawing software architecture diagrams in tools like Microsoft Visio. Furthermore, these diagrams often don't reflect the implementation in code, and vice versa. This session will look at why this happens and how to resolve the conflict between software architecture and code through the use of architecturally-evident coding styles and the representation of software architecture models as code.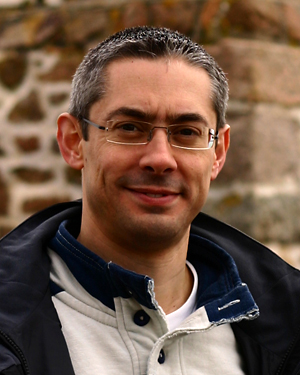 Simon Brown lives in Jersey (the largest of the Channel Islands) and works as an independent consultant, helping teams to build better software. His client list spans over 20 countries and includes organisations ranging from small technology startups through to global household names. Simon is an award-winning speaker and the author of Software Architecture for Developers - a developer-friendly guide to software architecture, technical leadership and the balance with agility. He still codes too.
Thank you to our Community Sponsor Thoughtworks and supporting user group Melbourne Java & JVM.
Coming Soon
Simple Sketches for Diagramming Architecture with Simon Brown 
This hands-on 1 day workshop is aimed at those involved in the software development process and is about improving communication. You'll see some patterns and anti-patterns related to "boxes and lines" diagrams, and you'll learn some lightweight techniques for communicating software architecture using simple sketches. Want to learn more about Simon?  Click here to watch the talk he gave at YOW! 2014.  
Register here  >> Melbourne 3 August | Sydney 12 August
Coaching Agile Teams with Michael Spayd & Lyssa Adkins/ Michael Hamman 
This three day workshop is for experienced Agilists who wish to dramatically increase their overall agile coaching skills and effectiveness. Discover more...
Register here  >> Sydney 10-12 August | Melbourne 24-26 August
Managing Agile Environments with Michael Spayd & Michael Hamman
This two-day workshop is for those who manage agile teams and programs. Highly interactive and experiential, this workshop is designed to dramatically increase the manager's ability to support the emergence of high-performing agile teams and programs, and to grow the broader organizational environments in which they grow and thrive.  Read more...
Register here  >> Sydney 13-14 August | Melbourne 27-28 August
IoT & Mobile: When everything is Connected.
For the second year in a row YOW! Connected brings high caliber speakers and cutting-edge content to Melbourne for a two day conference exploring the world of Mobile development and the Internet of Things (IoT).  
Topics include native development for iOS and Android, the developing market for the IoT, UX & design, back end development and the review of several business case studies. Learn more...
When & Where

Jasper Hotel
489 Elizabeth Street
Melbourne, VIC 3000
Australia

Monday, 3 August 2015 from 5:30 pm to 8:30 pm (AEST)
Add to my calendar