YOW! Night 2017 Sydney - Melinda Seckington & Bodil Stokke - May 09

Tuesday, 9 May 2017 from 5:30 pm to 8:30 pm (AEST)
Event Details
Two YOW! Nights in One! 
THE MARVEL GUIDE FOR DEVELOPERS by Melinda Seckington
Iron Man. Thor. Black Widow. Spider-Man. Captain America.
Forget ninja developers and rockstar developers. What I'm more interested in is the superhero developer: these are the developers that do their best to help others, that try to give back to their community, and generally make the world a better place. 
So how can we all strive to be superhero developers? This talk will look at the lessons  we can learn from Marvel superheroes on being better developers.
YOU HAVE NOTHING TO LOSE BUT YOUR CHAINS  by Bodil Stokke
This is a talk about the Open Source movement and the Free Software movement it grew out of, about its disregarded heroes and its flawed prophets, about what it's doing for us and what it's doing to us. I'd like to examine how it empowers us, and how it exploits us, and to show you why it's really, really important that we figure out a way to make sure nobody can ever take it from us.
ABOUT THE PRESENTER: MELINDA SECKINGTON
Melinda Seckington is a developer at FutureLearn, a social learning platform, and leads the team's employee evangelism. She loves attending BarCamps, Hackdays and other tech meet ups, and since 2009 has been organising them at Geeks of London. She also writes at MissGeeky, a blog about all things geeky and girly. When she's not busy with events or blogging, you can find Melinda curled up on her couch with a good book or video game.
ABOUT THE PRESENTER: BODIL STOKKE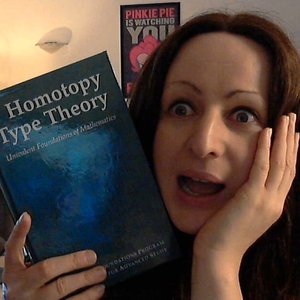 Born into an aristocratic Russian-German family, Bodil traveled widely around the Soviet Union as a child. Largely self-educated, she developed an interest in computer science during her teenage years. According to her later claims, in 1989 she embarked on a series of world travels, visiting Europe, the Americas, and India. She alleged that during this period she encountered a group of mathematical adepts, the "Haskell Language and Library Committee," who sent her to Glasgow, Scotland, where they trained her to develop her powers of category theory. Both contemporary critics and later biographers have argued that some or all of these foreign visits were fictitious, and that she spent this period writing JavaScript.
Bodil was a controversial figure during her lifetime, championed by supporters as an enlightened guru and derided as a fraudulent charlatan by critics. Her doctrines influenced the spread of Homotopy Type Theory in the West as well as the development of Western computer science currents like dependent types, blockchains and isomorphic JavaScript.
PROGRAM


5:30 pm   Welcome networking with refreshments

6:00 pm   Presentation followed by Q&A

THANK YOU TO OUR YOW! NIGHT SPONSORS  


YOW! Night Venue Sponsor  

 

YOW! Gold Community Sponsor  

 
 

YOW! Gold Community Sponsor 

   

YOW! Usergroup Partner 
---
ALSO COMING SOON! 
YOW! LAMBDA JAM
Sydney - 8-9 May 2017
It's Sydney's turn to feel the Lambda Jam with this event being held there for the first time. This event is perfect for those that want to ratchet up their Functional Programming skills. Improve your skills in languages like Clojure, Scala, Erlang, Haskell, or F# at YOW! Lambda Jam. 
YOW! WEST
Perth - 

2-3 May 2017
YOW! West returns to Perth with high calibre speakers and cutting-edge content over 2 days. International, national and local experts will provide thought provoking and innovative talks in their field of expertise.
YOW! DATA
Sydney - 18-19 September 2017
YOW! Data returns for its 2nd year in Sydney exploring data driven technology and applications. 
Call for Presentation Now Open!
YOW! CONNECTED
Melbourne - 21-22 September 2017
YOW! Connected is a two day Conference exploring the world of Mobile development and the Internet of Things (IoT). Get unbiased and technically rich talks on topics that include include native development for iOS and Android, the developing market for the IoT, UX & design, back end development and the review of several business case studies.
Call for Presentation Now Open!
When & Where

Optiver Offices
39 Hunter St
Sydney, NSW 2000
Australia

Tuesday, 9 May 2017 from 5:30 pm to 8:30 pm (AEST)
Add to my calendar