YOW! DepthFirst Workshop 2018 - Perth - Mike Amundsen, Designing and Building Great APIs - Apr 19

Thursday, 19 April 2018 from 8:30 am to 5:30 pm (AWST)
Event Details
YOW! Perth Workshop
Designing and Building Great APIs
with Mike Amundsen
This full-day workshop walks you through a complete process of designing and building APIs that both your developers and your company will love. Topic covered include the API Action Lifecycle, Designing and Describing APIs, and the Sketch-Prototype-Build pattern for safely and quickly turning API designs into production-ready deployments.
Guided by a mix of slides and table exercises, attendees will get direct hands-on experience of the entire design-and-build portion of the API lifecycle. Whether you are a designer, software architect, programmer, or project-leader this course will give you valuable experience and timely references to help you and your team success and designing and building great APIs.
Prerequisites
This is a fast-paced workshop but you don't need to be a rocket scientist to keep up. It is important to understand the fundamentals of HTTP and APIs in general. We'll be working with basic editors and simple build tools that work with Markdown, HTML, JSON, XML, and YAML. It helps to have some experience with NodeJS and to have that installed and configured on your laptop before you show up. All the course materials will be hosted in Github and we'll make extensive use of online editors that support logins using your github, twitter, and other social accounts.
Each unit has both a lecture and exercise portion. The exercises usually involve group participation. You can complete some of the exercises with just pen and paper, but having access to a laptop connected to the Internet will allow you a much improved experience for the day. Most of the exercises involve editing existing documents in an online editor but, in a few cases, there are opportunities to write some NodeJS in a local instance. But even if you don't have any NodeJS experience, you'll still get a lot out of the course.
Workshop Requirements
Pen and paper for taking notes and working on exercises

Laptop with Internet access that is loaded with your favorite text editor and (optionally) a working instance of NodeJS

A Github account and (optionally) a locally installed instance of git

NOTE: There will be a ZIP file copy of all the online content that you can load onto your local machine if you don't have Internet access or git support.  
Additional reading resources are available here.
Workshop Schedule
| | |
| --- | --- |
| 8:30 – 9:00 am | Registration and arrival tea/coffee  |
| 9:00am  | Workshop begins |
| 10:30 - 10:55 am | Morning Tea (included) |
| 12:30 - 1:25 pm | Lunch (included) |
| 3:15 - 3:30 pm | Afternoon Tea (included) |
| 5:00 pm | Workshop ends |
 Please note times may vary at the workshop facilitator's discretion.
About the Speaker: Mike Amundsen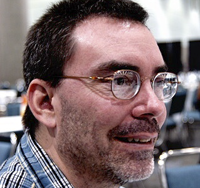 An internationally known author and speaker, Mike Amundsen travels the world consulting and talking about network architecture, Web development, and other subjects. As Director of Architecture for the API Academy, he works with companies to provide insight on how best to capitalize on the opportunities APIs present to both consumers and the enterprise.
Amundsen has authored numerous books and papers. His 2013 collaboration with Leonard Richardson "RESTful Web APIs" and his 2011 book, "Building Hypermedia APIs with HTML5 and Node", are common references for building adaptable Web applications. He co-authored "Microservice Architecture" (June 2016) and his latest book, "RESTful Web Clients", was published by O'Reilly in February 2017.
---
ALSO COMING SOON! 
YOW! DATA | 14-15 May
YOW! Data returns to Sydney for the third conference this May! The two day conference focuses on exploring data driven technology and applications. Tickets available now.

YOW! LAMBDA JAM | 21-23 May
YOW! Lambda Jam is heading to Sydney in May 2018! The event aims at expanding the skills of functional programmers. The conference focuses on applied functional programming in languages such as Clojure, Scala, Haskell, Erlang and F#. Tickets available now.
YOW! PERTH | 5-6 September
Business Agility Conference is 2½ days of authentic short stories and facilitated deep dives on business agility; focusing on organisational design, market disruption and product innovation, agile outside IT and next-gen leadership. Tickets available now.
YOW! CONNECTED | 17-18 September
YOW! Connected is a two day Conference exploring the world of Mobile development and the Internet of Things (IoT). 
BUSINESS AGILITY CONFERENCE | 24-25 September
Business Agility Conference is 2½ days of authentic short stories and facilitated deep dives on business agility; focusing on organisational design, market disruption and product innovation, agile outside IT and next-gen leadership. Call for presentations open until 30 June.
YOW! 2018 CONFERENCE
Taking place in Melbourne, Brisbane and Sydney, this is YOW!'s signature and biggest event of the year. Last year over 2,000 Developers and IT Professionals attended the conference and workshop. 
Sydney 29-30 Nov | Brisbane 3-4 Dec | Melbourne 6-7 Dec
---
Group tickets and Sponsorship 
Please email info@yowconference.com if you'd like to purchase group tickets. 
Contact the sponsorship team to request a copy of our sponsorship package or for more details on how we can tailor a specific package for your needs.
Transfer, Cancellation and Refunds  
Please see our full terms and conditions.
For more information, visit yowconference.com.au or contact info@yowconference.com
When & Where

Bankwest
Raine Square, 300 Murray Street
Perth, WA 6000
Australia

Thursday, 19 April 2018 from 8:30 am to 5:30 pm (AWST)
Add to my calendar