YOW! DepthFirst Workshop 2018 - Melbourne- Gojko Adzic, Specification By Example - May 21-22

Monday, 21 May 2018 at 8:30 am

-

Tuesday, 22 May 2018 at 5:30 pm (AEST)
Event Details
YOW! Melbourne Workshop
Specification by Example: From User Stories to Acceptance Tests
with Gojko Adzic
Specification by example is a collaborative approach to defining requirements and tests for based on capturing realistic examples instead of abstract statements. It is the cornerstone of any successful requirements and testing and requirements strategy with agile and lean processes, such as Scrum, Extreme Programming and Kanban. This workshop teaches you how to apply specification by example to bridge the communication gap between stakeholders and implementation teams, build quality into software from the start, design, develop and deliver systems fit for purpose.
Since 2007, more than 7000 people have benefited from this workshop. Below is selected feedback from some of the previous participants:
Very efficient and practical course. No dogmatism or philosophy. Built up on real life examples with useful real life exercises. - Sergei Sergejev, Skype
The best course I've attended in my career. I loved that the instructor challenged us to think for ourselves and did not give us the answers straight away. Trond Svensen, SITS
Informative, to the point and loads of potential business value for my employer and clients. Thomas Bakken, Consultant at Logica Norge AS
I initially wanted to attend Gojko's course on Agile Acceptance Testing because I wanted to learn about test automation and how to do it well. As a product owner, I came to realise that I was going to have to change a lot of what I did. I needed to learn how to make requirements definite, unambiguous, atomic - not only so that they might be an input into an automation process but also because I want to create something the whole company can understand, something that is concise to read and something I can easily keep up to date.- Patrick O'Malley, Product Manager, Yahoo Inc.
Definitely worthwhile, particularly if product owners/internal clients are also involved. - Will Thomas, Scrum Developer at UBS
As a teacher, Gojko is one of the few that understand the power of teaching. It is all to seldom that someone with great familiarity of the solutions they teach also understand and listens to any other and novel problems someone share. It is hard to to put your self in someone else's shoes. But Gojko does this remarkably well. - Gunnar Ahlberg, Avega Group
Inspiring, changed my perspective, essential knowledge. - John I. Hervik, Logica Norge AS
Key Learning Points  

This workshop is based on Gojko Adzic's books Specification by Example and Bridging the Communication Gap. Through facilitated exercises and discussion, you will learn:
how to extend specifications with examples to create a single source of truth for testing and development
how to avoid functional gaps and inconsistencies in specifications and tests
how to run specification workshops to facilitate collaboration good practices for designing specifications with examples and acceptance tests for agile teams
how to create a living documentation system to facilitate change and improve your process long-term how other teams, from small web startups to large distributed teams in investment banks, apply specification by example in their contexts
Intended Audience 
The workshop is aimed at delivery team members (programmers, testers, business analysts and product owners) mostly working in iterative delivery, such as Scrum or Kanban. Prior experience in delivering software iteratively is useful when attending this workshop, but not required.
Workshop Requirements
Laptop with wifi-internet access. 
An internet connection
Workshop Schedule
| | |
| --- | --- |
| 8:30 – 9:00 am | Registration and arrival tea/coffee  |
| 9:00am  | Workshop begins |
| 10:30 - 10:55 am | Morning Tea (included) |
| 12:30 - 1:25 pm | Lunch (included) |
| 3:15 - 3:30 pm | Afternoon Tea (included) |
| 5:00 pm | Workshop ends |
 Please note times may vary at the workshop facilitator's discretion.
About the Speaker: Gojko Adzic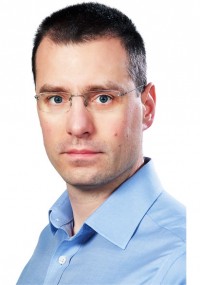 Gojko Adzic is a partner at Neuri Consulting LLP. He is the winner of the 2016 European Software Testing Outstanding Achievement Award, and the 2011 Most Influential Agile Testing Professional Award. Gojko's book Specification by Example won the Jolt Award for the best book of 2012, and his blog won the UK Agile Award for the best online publication in 2010.
Gojko is a frequent speaker at software development conferences and one of the authors of MindMup and Claudia.js.
As a consultant, Gojko has helped companies around the world improve their software delivery, from some of the largest financial institutions to small innovative startups. Gojko specialises in are agile and lean quality improvement, in particular impact mapping, agile testing, specification by example and behaviour driven development.
---
ALSO COMING SOON! 
YOW! DATA | 14-15 May
YOW! Data returns to Sydney for the third conference this May! The two day conference focuses on exploring data driven technology and applications. Tickets available now.

YOW! LAMBDA JAM | 21-23 May
YOW! Lambda Jam is heading to Sydney in May 2018! The event aims at expanding the skills of functional programmers. The conference focuses on applied functional programming in languages such as Clojure, Scala, Haskell, Erlang and F#. Tickets available now.
YOW! PERTH | 5-6 September
Business Agility Conference is 2½ days of authentic short stories and facilitated deep dives on business agility; focusing on organisational design, market disruption and product innovation, agile outside IT and next-gen leadership. Tickets available now.
YOW! CONNECTED | 17-18 September
YOW! Connected is a two day Conference exploring the world of Mobile development and the Internet of Things (IoT). 
BUSINESS AGILITY CONFERENCE | 24-25 September
Business Agility Conference is 2½ days of authentic short stories and facilitated deep dives on business agility; focusing on organisational design, market disruption and product innovation, agile outside IT and next-gen leadership. Call for presentations open until 30 June.
YOW! 2018 CONFERENCE
Taking place in Melbourne, Brisbane and Sydney, this is YOW!'s signature and biggest event of the year. Last year over 2,000 Developers and IT Professionals attended the conference and workshop. 
Sydney 29-30 Nov | Brisbane 3-4 Dec | Melbourne 6-7 Dec
---
Group tickets and Sponsorship 
Please email info@yowconference.com if you'd like to purchase group tickets. 
Contact the sponsorship team to request a copy of our sponsorship package or for more details on how we can tailor a specific package for your needs.
Transfer, Cancellation and Refunds 
Please see our full terms and conditions.
For more information, visit yowconference.com.au or contact info@yowconference.com
When & Where

Cliftons Melbourne - Collins Street
440 Collins Street
#1
Melbourne, VIC 3000
Australia

Monday, 21 May 2018 at 8:30 am

-

Tuesday, 22 May 2018 at 5:30 pm (AEST)
Add to my calendar