About this Event
Join Margie, the EmpowHer Leadership team plus women just like you from across East Gippsland ONLINE to delve into the topic of 'SECURITY' - our 2nd quarter theme at EmpowHer.
Drought, bushfires and COVID-19; we know that 2020 has been a rough one for East Gippsland. Wouldn't an empowered sense of security be amazing right now? We have just the inspirational speakers you're looking for, and we're here to help you through the tough times - you don't have to do it alone.
2nd Quarter Topic: SECURITY
After the success of our first in-person event 'SELF' with Emily Chadbourne in February 2020, we've pivoted to help you to pivot too. Instead of one big in-person event with 1 keynote speaker as originally planned for May, our leadership team have reimagined the EmpowHer events, and we're moving them online. In the 2nd quarter, we're bringing you 3 amazing speakers over 3 shorter events all focused on the topic of SECURITY - emotional, mental and financial - and we're pretty such there's never been a better time to tackle this topic.
SECURITY Part 1 - KEYNOTE SPEAKER: Margie Warrell
EmpowHer are thrilled to announce bestselling author & global leadership authority Margie Warrell for the first Keynote speech in this three part online series.
A Forbes School of Business advisory board member, Margie has spent the last 25 years living and working around the world with global trailblazers and organisations such as NASA, Google, Australian Federal Police, US State Department and the United Nations.
During her 1 hour Keynote, Margie will drawn down on her own hard-won wisdom and research from her latest book, "You've Got This!" The Life-Changing Power of Trusting Yourself" which was launched while under quarantine during her husband's hospitalization for Covid-19.
Margie will help you to expand your emotional bandwidth, be grounded in self-certainty and trust yourself to transform the challenges ahead into opportunities; to live an immeasurably bigger, braver and more rewarding life than you ever have otherwise.
Margie will share practical strategies to help you:
Replace self-doubt with self-trust so you can make the ultimate bet… on yourself
Get 'on purpose' to activate 'post traumatic growth' in every area of your life  
Tap into resilience to bounce back faster when life pulls you down.  
This event will be presented via Zoom in two parts:
3pm - 4pm - Margie's Keynote address
4pm - 5pm - Networking with EmpowHer leaders and community attendees: a chance to connect with other local community members and discuss your thoughts and feelings on Margie's presentation.
AUDIENCE: Whilst EmpowHer focus on addressing the questions and needs of regional women in business and leadership, anyone who is interested in this topic and speaker is welcome to attend. We are an inclusive organisation and welcome people from all walks of life; this includes men, members of the LGBTQIA+ community and people with a disability.
Margie will be delivering this presentation from Singapore - if there are technical difficulties or any other issues that prevent this event from taking place on the 29th, EmpowHer will reschedule.
TICKET PRICES:
We know that things are very tough financially at the moment for many. So we've completely changed our pricing to help as many people attend as possible.
$30 per person for large businesses and corporations to send their staff and for individuals who can comfortably afford it
FREE for those affected by COVID 19, bushfires and drought who could really use a financial break - don't worry, we get it!
We're absorbing the Eventbrite booking fees for the SECURITY series of events.
IMPORTANT NOTES:
There are ONLY 100 tickets available. Please only book if you're committed to attending this event.
If you do book but cannot attend last minute, please cancel your registration no later than 24 hours prior to the commencement of the event to allow for another to take your spot - we have enabled the Wait List.
This booking registers your attendance for the 1st event with Margie Warrell only. Information and booking details for parts 2 and 3 of on our SECURITY series will be released shortly; you will need to register to secure your spot for them separately.
This event is for Gippsland residents only.
USING ZOOM:
You can join this online event via the Zoom App, which you can access via your computer, tablet or smartphone. Both Android and Apple operating systems are supported.
If you're new to Zoom and don't already have the App downloaded, you will be prompted to do so when you click the link to the event which we will supply closer to the event time and date. It's very easy and safe to use.
EmpowHer East Gippsland is proudly supported by Gippsland Primary Health Network through the One Good Community Wellbeing Grants.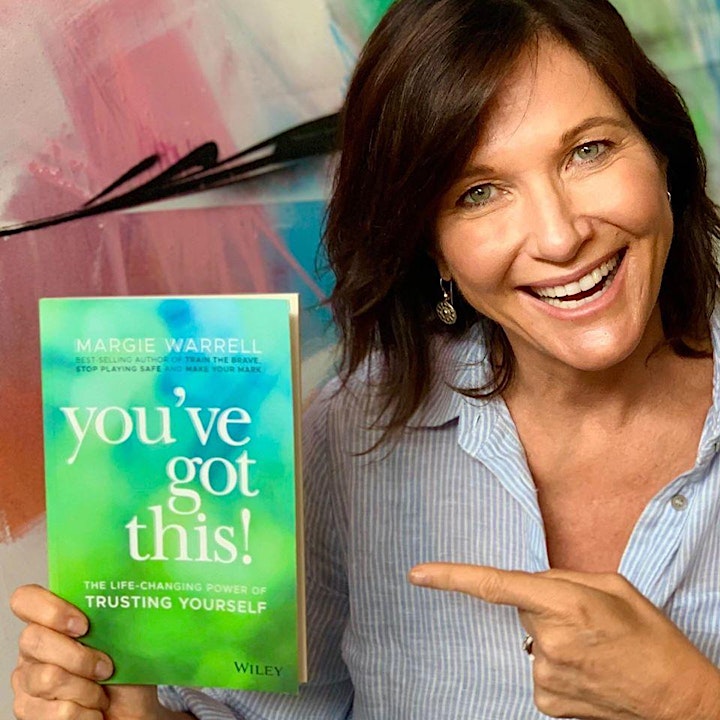 Date and Time
Location
Refund Policy