Description
Mental health first aid is the help provided to a person who is developing a mental health problem, or who is in a mental health crisis (e.g., the person is suicidal or has had a traumatic experience). Like physical first aid, mental health first aid is given until the person receives professional help or until the crisis resolves.
Mental health first aid strategies are taught in evidence-based training courses authored by Mental Health First Aid (MHFA) Australia and delivered by accredited MHFA Instructors across the country. Turning Point offers Youth MHFA Courses as authored by MHFA Australia, delivered by Instructors who are currently accredited by MHFA Australia.
The 14-hour Youth Mental Health First Aid (MHFA) Course teaches adults (18 years and over) how to provide initial support to adolescents who are developing a mental illness or experiencing a mental health crisis.
This 2-day workshop explores how we, as workers, can better assist our adolescent clients (and/or friends and family members) who may be developing a mental health problem or in a mental health crisis. Fiona will be teaching the 4th edition of the course, released in early 2017. This updated curriculum contains new videos and activities.
Adolescent development, the signs and symptoms of common mental health problems, where and how to get help for young people with a mental illness, the research behind effective treatment, and how to provide first aid in a crisis situation are all covered in this 2-day training.

MHFA courses provide:
Skills in how to recognise the signs and symptoms of mental health problems.

Knowledge of the possible causes or risk factors for these mental health problems.

Awareness of the evidenced based medical, psychological and alternative treatments available.

Skills in how to give appropriate initial help and support someone experiencing a mental health problem.

Skills in how to take appropriate action if a crisis situation arises involving suicidal behaviour, panic attack, stress reaction to trauma, overdose or threatening psychotic behaviour
*Please note participants attend both days in order to gain accreditation as a YMHFAider.

Trainer: Fiona Blee, Adult Programs Manager, Mental Health First Aid Australia. Fiona is an experienced program manager who has worked in prevention and early intervention relating to mental health and substance use for 10 years. During this time she has coordinated a number of applied research trials in addition to developing training packages and interventions for teachers, youth and allied health workers. Fiona is an accredited Standard and Youth Mental Health First Aid Instructor and is passionate about reducing stigma and encouraging help-seeking among young people.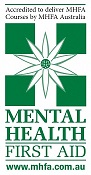 About Mental Health First Aid Australia: Developed in 2001 by Betty Kitchener AM and Professor Tony Jorm, MHFA Australia is a national not-for-profit organisation focused on mental health training and research. MHFA Australia develops, evaluates and provides a variety of evidence-based training programs and courses which teach mental health first aid strategies to members of the public as well as train and accredit suitable individuals to deliver MHFA courses to communities and workplaces across Australia.
Who should attend? The Youth Mental Health First Aid Course is for adults living or working with adolescents (those aged between 12 and 18 years). It is particularly suitable for AOD workers, parents, teachers and allied health workers.
Cost: $440 (2 days)
Time: 9:30am - 4:30pm (Participants are advised to arrive at 9:15am for a 9:30am start)
Lunch: A light lunch including a vegetarian selection is provided.
Parking: All day parking is available close by at the Melbourne Museum car park on Nicholson Street.
Cancellation Policy: If your circumstances change and you no longer can attend this event after you have registered please email training@turningpoint.org.au no later than one (1) week prior to the event to cancel and/or be issued with a full refund. A refund will not be issued if notification has not been received within this time frame and you will be required to pay for the event.
General enquiries: Please contact Student Administration Monday - Friday 8:00am - 3:30pm (03) 8413 8700 or email training@turningpoint.org.au